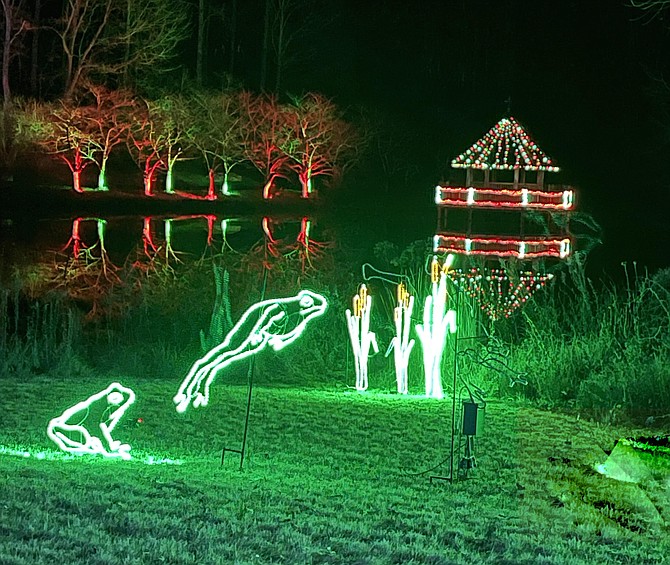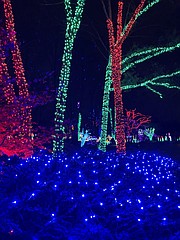 This season, NOVA Parks offers an opportunity to literally "brighten'"spirits with three holiday shows. As a more somber country examines holiday traditions this year with an eye toward finding safe accommodations, spectacular shows with hundreds of lights and light sculptures await viewing now at: Festival of Lights, Bull Run Park; Ice & Lights, Cameron Run Park; and Winter Walk of Lights, Meadowlark Botanical Gardens.
The scale of the light shows has not diminished, but goes on with added safety protocols, in what has become a delightful area entertainment custom. The number of available tickets at Cameron Run and Meadowlark were scaled back to meet the latest State restrictions on entertainment gatherings; to reduce crowd size to one third capacity. Added protocols include: timed ticket entry, six foot social distancing, required masks, increased facility sanitation, and staff symptom and temperature checks. The drive-thru show at Bull Run is largely unaffected by the facility safety restrictions since participants remain in their vehicle.
Bull Run Festival of Lights first opened over twenty years ago. Its 2.5 miles include approximately a million lights and a large number of holiday displays. Remaining popular over the years, the show attracted 48,000 cars for the drive through event last year. A newer tradition, begun in 2012, the Meadowlark Botanical Gardens' Winter Walk of Lights show features nature themed displays over more than half a mile of walking trails, created with more than half a million lights. Its first year visitation of 36,000 jumped to about 75,000 walkers in 2019, who watched, among other displays, illuminated bees fly from their lighted hive, frogs leap, and bunnies hop. The newest show, Cameron Run's Ice & Lights, which opened in 2019, "transforms the Great Waves Waterpark into a holiday wonderland", says NOVA Parks Blythe Russian, who worked with other staff members to create the Meadowlark and newer ice shows.
Holiday light shows are almost as old as light bulbs themselves. Three years following Thomas Edison's first public demonstration of the incandescent light bulb in 1882, his associate Edward H. Johnson was dubbed the "Father of Christmas tree lights" after decorating his tree with 80 walnut-sized bulbs. By early in the 20th century, the availability of inexpensive electric power made it possible for the average person to decorate with electric lights instead of candles. The first public electric light Christmas holiday display is recognized as Christmas Tree Lane, a .7 mile display of lighted cedar trees along Santa Rosa Ave in Altadena, Calif. The Altadena tradition started in 1920 has continued every year after that, except during WWII.
Since the 1960s, people have been outlining private homes with lights. It became family entertainment to drive around between 8 and 10 p.m. to view the lights each season.
The NOVA Park shows cater to the public's appetite to view ever larger holiday light displays.
All tickets for the NOVA Park shows must be purchased online (no walk-ins) at novaparks.com for shows running until Jan. 3, 2021.