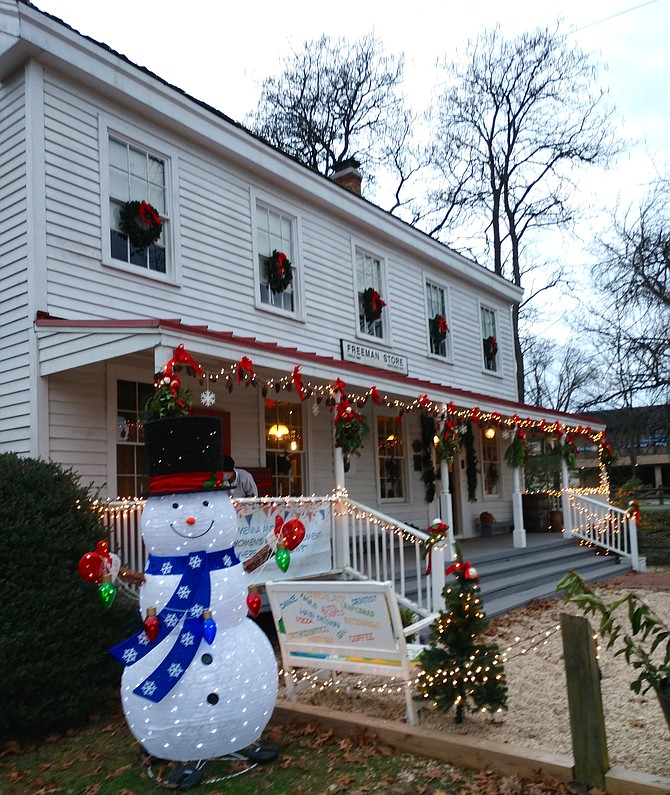 Members of Ayr Hill Garden Club and Historic Vienna, Inc. decorated the Freeman Store and Museum for the holidays. This year, the Church Street Stroll will be virtual, so the decorations had to be completed early for filming. On Nov. 30, at 6:30 p.m., the Town will be streaming on Facebook and YouTube the lighting of the Town Holiday Tree and the Freeman Store and Museum. https://www.viennava.gov/index.aspx?NID=985
Instead of using fresh pine garlands, the Club created garlands of assorted pine cones and magnolia pods, accented with bright ornaments. Fresh garlands would not last through the month of December. The pine cone garlands create a very different historic look that is quite elegant. Passersby, as the decorations were assembled, expressed their admiration for the new look. One person asked if she could "steal" the idea as she had lots of pine cones in her yard! Of course, the club encouraged her and showed her how they were made.
Church Street Holiday Stroll Livestream
To safely spark seasonal spirits, the Town of Vienna is bringing the annual Church Street Holiday Stroll right into homes via livestream at 6 p.m. Monday, Nov. 30. Navy Federal Credit Union is sponsoring this virtual event.
Viewers may tune into festivities either via Facebook Live or YouTube Live @townofviennava. As per usual, even during unusual times, there will be a traditional tree lighting, local performers, and a special message from Santa and Mayor Linda Colbert.
Businesses on Church, Mill, and Dominion streets will offer specials and seasonal activities at the Town's Shop & Stroll event on Small Business Saturday November. More information can be found at https://www.viennava.gov/index.aspx?nid=1400.