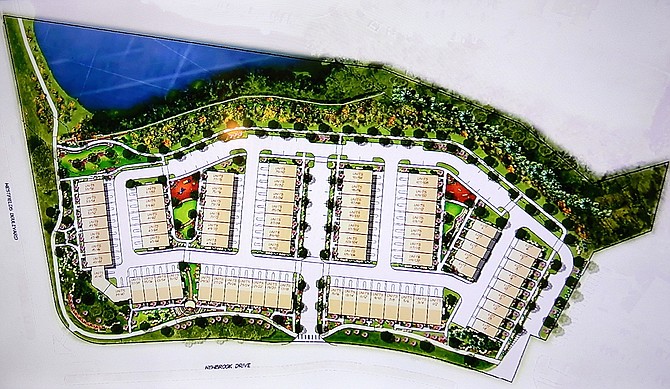 The writing was already on the wall in July when the Fairfax County Board of Supervisors refused to adopt the Metropolitan Washington Airports Authority's (MWAA) 2019 noise contours for Chantilly's Land Unit J. Doing so enabled the board to pretend it's still 1993 and later greenlight a slew of new homes in an area experts say is too noisy for human habitation.
Since then, the Supervisors approved two residential developments for construction there – Elm Street's 158 homes and Boulevards at Westfields' 442. And last Tuesday, Nov. 17, they gave the go-ahead for developer Stanley Martin to build Stonebrook's 134 homes in the same place.
All three projects are directly underneath Dulles International Airport flightpaths – yet the Supervisors okayed them, over the vehement objections of the airport, airlines, environmental and land-use groups, and residents.
Stonebrook will have 120, two-over-two, stacked townhouses, plus 14 rear-load townhouses – at the Westfields Boulevard/Newbrook Drive intersection. Rooftop terraces are optional; also planned are 110,000 square feet of open space – where children will experience aircraft noise full blast from jet planes flying just 950 feet above them, 24 hours/day.
The FAA says homes shouldn't be built there because MWAA's updated noise contours place that site clearly inside the 65-70 DNL contour, with a day/night average decibel noise level of 65 decibels and above. But by using MWAA's old 1993 contours, the developer's representative, Andrew Painter, can claim it's below 60 DNL. He says prospective buyers will be told about aircraft overflights and homes won't exceed interior noise levels of 45 DNL.
BOASTING that some homes will be for those earning 70 or 80 percent of the area median income, Painter said, "We view this as a positive step to add new housing here, keep the [nearby] Westfields Corporate Center competitive and help people build equity in the community." He said residents will sign abrogation easements, holding MWAA harmless from their noise complaints, adding, "This won't adversely impact airport operations."
But the many people and entities that wrote letters to the Supervisors about Stonebrook, and called in to speak during last week's public hearing, disagreed. One was retired Air Force pilot Keith Meurlin, president of the Washington Airports Task Force and former Dulles Airport manager.
"Placing this development directly under Dulles's primary flightpath will bring similar issues the county is dealing with in the Mount Vernon District, about National Airport's noise, to the Sully District – but on steroids," he said. "The aircraft at Stonebrook will be lower, larger and more intense. Why would the county invite the ire of its residents when it can be avoided?"
Furthermore, warned Meurlin, "The most hazardous phases of flight are right after takeoff and before landing." He also noted that United Airlines could change its plans to significantly grow its Dulles hub if hampered by limitations on its operations and might, instead, move somewhere else with less restrictions.
Richard Deitos, Metropolitan Washington Airlines Committee executive director – representing 44 airlines – said using the updated contours is "critical" when making land-use decisions. He then played a video of the aircraft noise Stonebrook residents will hear continuously.
"The growth of an international airport isn't conducive to nighttime noise restrictions," he said. "But that could happen if Stonebrook's approved and the residents complain."
Agreeing, Tom Michels of United Airlines said, "We account for about 50 percent of the flights at Dulles and employ 5,000 people there. We're afraid this will lead to a large number of noise complaints and subsequent curfews on our operations – which would seriously impact our growth. Dulles is our north-south hub, and we expect it to grow to 300 daily flights by year's end and 450 within five years."
"When you place homes directly between the approach/departure path, we can't deviate from it," he continued. "Planes will fly overhead every 4-5 minutes, and residents won't just hear the noise – they'll feel it – and they'll complain. Don't put people there."
MWAA's Michael Cooper stressed that the 1993 contours are "expired and aren't used by the airport. We now have triple, simultaneous arrivals and departures, and that's what triggered our noise studies. Flights going over our busiest runway go over the center of Stonebrook."
Representing the Committee for Dulles – comprising 70 businesses, individuals and nonprofits – Scott York called the airport "a jewel to our economy. Stonebrook is in the wrong location. Why would community leaders put all these people in an area with airplanes flying overhead at just 950 feet? The need for affordable housing should not negate the need to protect the airport and residents' ability to enjoy their yards, rooftop decks and outdoor play areas."
Sully District Council's Sheila Dunheimer said that land was previously "deemed untouchable" for residential. And, she added, the supposedly affordable housing will actually sell for 52 percent more than homes in other areas of Centreville and Chantilly. "Do the right thing for our citizens," she implored the supervisors. "Don't allow homes to be built in substandard housing conditions."
"This application is a bellwether for disaster," said resident Tammi Petrine. "Dulles isn't the enemy; but allowing residential so close to it is a red flag that defies common sense. Citizens vote for supervisors every four years – and we'll remember who stood up for us and who didn't."
Noel Kaplan, retired Fairfax County environmental staff member, said Painter's incorrect about the decibel levels there. "The actual, maximum noise levels at Stonebrook are in the 80-90-decibel range," he said. "So the homes' interior noise levels after mitigation would be 65 decibels, not 45. It'll be loud, and residents will hear [the aircraft noise] inside."
IN RESPONSE, Painter said, "No one's forcing anyone to live there."
Supervisors Walter Alcorn (D-Hunter Mill) and Pat Herrity (R-Springfield) both said the county needs to use the updated contours, not ones from 1993. And Supervisor Rodney Lusk (D-Lee) said, "I'm very concerned about the noise; it's a quality-of-life issue – this site is literally in the flight path."
Supervisor Kathy Smith (D-Sully) then recommended approval. She said there's a Montessori school and other homes nearby, and the new residents will be able to walk to a shopping center with restaurants and a grocery store. Said Smith: "People love to live near the airport, and I urge my colleagues to support this."
Herrity said several state senators and delegates sent letters to the Board in opposition and urged it to adopt the new contours before considering Stonebrook. He said Virginia's secretaries of finance and transportation did likewise, as did local land-use committees.
"To ignore the 2019 contours is intellectually dishonest – it's relevant data," said Herrity. "This project is bad for the county's economic development, the airport and the residents there, so I won't be supporting it."
But Mason District Supervisor Penny Gross said, "Our growing region means more demand for housing, and everybody knows the airport is there. Land-use is the prerogative of local jurisdictions, not the commonwealth or the airports authority."
Braddock District Supervisor James Walkinshaw said the airport's success will be driven by consumer demand and the market, And Board Chairman Jeff McKay called it "a stretch" to worry about complaints of "homeowners who haven't moved in, yet." The Supervisors then approved Stonebrook, 7-3, with Herrity, Alcorn and Lusk voting no. Coincidentally, it was on the 58th anniversary of the airport's dedication.