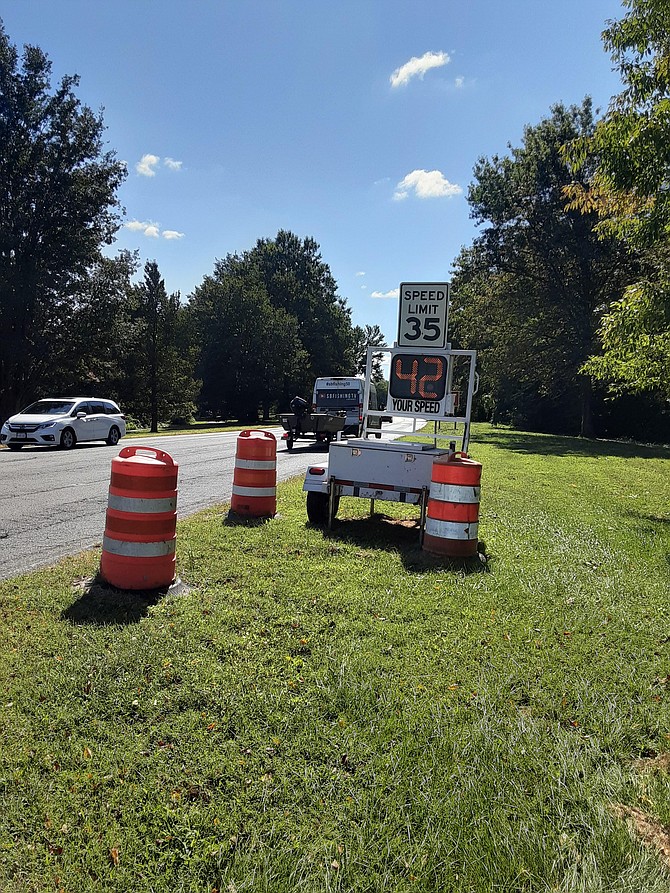 Over the last few months, the normal traffic hum that is heard around the Belle Haven community has gone up a few levels with the introduction
of loud exhaust systems, which are popular with a particular sect of drivers, but not everyone.
"These are sounds a normal motorcycle or car doesn't make," said Bryan Jacobs, who sat in the community with other neighbors just listening to the noise with a certain level of disgust. "Racing and revving their engines, and that's the problem," Jacobs said.
It is a legal problem too, if it breaks the decibel limit for Fairfax County, according to Sergeant Hudson Bull at the Fairfax County Police Department. "Officers can enforce the Virginia Code on exhaust systems," he said, and the code, which is 46.2-1049, entitled "Exhaust system in good working order." It states that "An exhaust system shall not be deemed to prevent excessive or unusual noise if it permits the escape of noise in excess of that permitted by the standard factory equipment exhaust system of private passenger motor vehicles or trucks of standard make." The code cites the use of "chambered pipes," that fit the description of the exhaust tips available, known as "diversified exhaust tips," on Amazon. They go by names such as "SLP Loud Mouth Exhaust System," or the "Hacker Mayhem."
According to the after-market industry explanation, "when used in combination with an upgraded exhaust system, including wider pipes and/or a performance muffler, exhaust tips can amplify the new tones coming from your exhaust. The shape and width of the exhaust tip can slightly change the sound to be either more throaty (larger tips) or raspy (smaller tips). Double-walled muffler tips tend to add a full-bodied sound." More noise than normal seems to be the objective here.
These loud motorcycles and cars are heard by Jacobs at "all hours of the day and night," he said.
The manager at Belle Haven Shell gas station hears them too, especially in the summer, he said. "I see that a lot, groups, more than four or five," motorcycles, he said.
Jacobs approached Supervisor Dan Storck with the issue too, and Storck brought it up with police officers at the Mount Vernon station.
"Our office has been working with community members on this issue. We have connected them with the Mount Vernon Police District MPO Marvin Goodley who met with the community to discuss actions community members can take to help the police enforce traffic safety issues. At our request, the Mount Vernon District Traffic Enforcement Officer will increase monitoring in the area and report back with additional actions possible to further respond to these public disturbances," Storck said.
The police can't issue any tickets without witnessing it first hand.
When the Fairfax County Police Department is made aware of large gatherings originating on the interstate or in another jurisdiction (from Virginia State Police, US Park Police, etc.) then they coordinate a plan to ensure the safety of all motorists on the roadway utilizing our patrol officers, Officer Bull said. "The Traffic Division, or in some cases our Helicopter Unit to monitor those groups as they travel through the County," he added.
Noisy Exhaust Pipes Are Nationwide
Residents of Mount Vernon are not alone when it comes to the noisy exhaust systems. This has been brought up by others and officers on proactive patrol have noticed similar violations. Thus far in 2020, there have been 22 summons issued by FCPD for 46.2-1049 (Traffic Exhaust System Produce Excess Noise).
In California, complaints of these modified exhausts reached officials, and they enacted California State Assembly Bill 1824. The bill changed how police officers can issue tickets for so-called "modified or excessively loud exhaust or muffler systems" In California exhaust modifications are illegal only if noise emitted is over 95 decibels, and the average exhaust is around 70 decibels.
According to California Vehicle Exhaust Noise Laws explanation, 95 decibels is comparable to the sound of a lawn mower, the inside of a subway car, plane flyover at 1,000 feet, a food blender less than 3 feet away or a car horn at 10 feet. Bills like this have not been introduced in Virginia.
There's a group out there, "Concerned Citizens Against Loud Motorcycles," that's taken to social media.