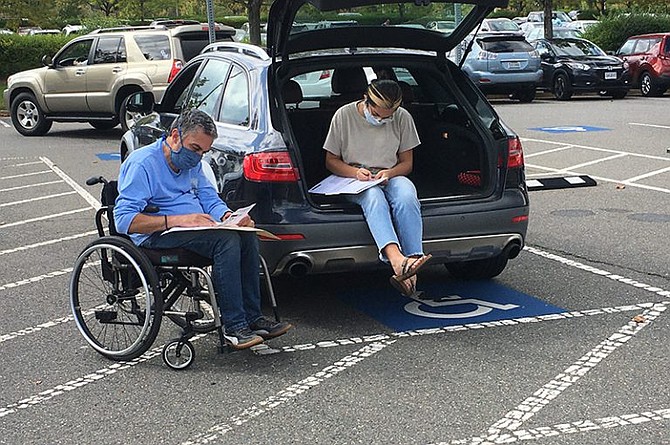 Fairfax County opened thirteen new early voting locations, giving voters more opportunities to cast their early votes ahead. Virginia has seen 86% more early ballots cast already this year than during the entire early voting season in 2016. In the first two days of early voting, Fairfax County alone saw an increase in ballots of roughly 208% compared to the first two days of early voting in 2016. The new voting locations will alleviate wait times and give Fairfax residents plenty of options of where to cast their ballots. In addition, the Fairfax County Government Center currently provides a 24-hour drop-box.
For questions about voting, contact the Fairfax County Office of Elections at 703-222-0776, TTY 711. See https://www.fairf...
Since early voting began on Sept. 18, Virginians have had the option to vote early in-person at their local registrar's office or via mail, and can continue to do so until Oct. 31.
Beginning Oct. 14, Fairfax County voters can vote early in-person at 13 new locations throughout the county: Hours: Monday-Friday, 1 p.m. - 7 p.m.; Saturday: 9 a.m. - 5 p.m.
CENTREVILLE: Centreville Regional Library, 14200 St. Germain Drive, Centreville, 20121
FRANCONIA: Franconia Governmental Center, 6121 Franconia Road, Alexandria, 22310
HERNDON: Herndon Fortnightly Library, 768 Center Street, Herndon, 20170
LORTON: Laurel Hill Golf Club, 8701 Laurel Crest Dr, Lorton, 22079
ANNANDALE: Mason Governmental Center, 6507 Columbia Pike, Annandale, 22003
McLEAN: McLean Governmental Center, 1437 Balls Hill Road, McLean, 22101
MOUNT VERNON: Mount Vernon Governmental Center, 2511 Parkers Lane, Alexandria, 22306
RESTON: North County Governmental Center, 1801 Cameron Glen Drive, Reston, 20190
FAIRFAX: Providence Community Center, 3001 Vaden Drive, Fairfax, 22031
CHANTILLY: Sully Governmental Center, 4900 Stonecroft Blvd., Chantilly, 20151
FALLS CHURCH: Thomas Jefferson Library, 7415 Arlington Blvd, Falls Church, 22042
FALLS CHURCH: Tysons Pimmit Library, 7584 Leesburg Pike, Falls Church, VA 22043
SPRINGFIELD: West Springfield Governmental Center, 6140 Rolling Road, Springfield, 22152
The Great Falls Library, 9830 Georgetown Pike, Great Falls, will be open for early voting on three Saturdays only, Oct. 17, Oct. 24, and Oct. 31, 9 a.m. - 5 p.m.
Fairfax County voters can continue to vote at the registrar's office at 12000 Government Center Parkway, through Oct. 31. The registrar's office is also expanding its in person voting hours: Monday-Friday 8 a.m. - 7 p.m., Saturday: 9 a.m. - 5 p.m.
Curbside voting will be available at every early voting location, and it is offered to those who are 65-years-old or older, or any person with a physical disability.
Election officials strongly recommend that voters curbside vote at the Fairfax County Government Center where there are 20 spaces set aside. Other early voting locations may only have one or two spaces available because their parking lots are smaller compared to the Fairfax County Government Center.
At the Fairfax County Government Center, curbside voters should park in the marked spaces in the parking lot in front of the building's left-hand side. Poll workers are outside ready to assist these voters. These procedures may change during inclement weather though.
The county warns that regardless of where voters choose to curbside vote, they should still expect significant waits.