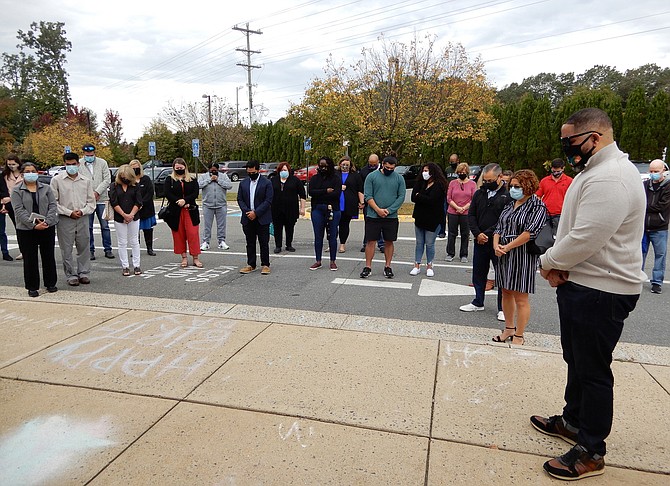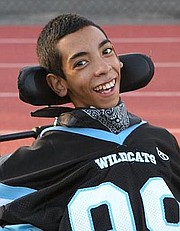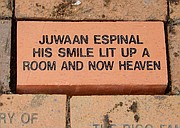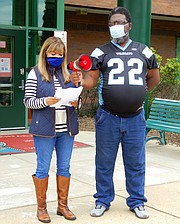 Juwaan Espinal's life was cut short at age 22, but he left a lasting impact upon all who knew and loved him. And some three dozen people gathered recently outside Centreville Elementary to honor Juwaan and see a brick installed in his memory in the brick garden outside the school.
He attended Centreville Elementary from 2002-09; and after he died, the school established the Juwaan Espinal Kindness Counts Award to be given each year at the sixth-grade graduation. Now, a brick there captures his spirit with the words, "Juwaan Espinal: His smile lit up a room, and now heaven."
He was wheelchair-bound due to cerebral palsy, and digestive problems caused by his condition led to his death in April – just a month shy of his 23rd birthday. Yet despite every obstacle he'd faced, his positive attitude and zest for life inspired both his family and community.
"Juwaan wasn't disabled," said Lamar Turner, who led the socially distanced, mask-wearing attendees in prayer at the start of the Oct. 10 ceremony. "God made him perfect so all of us could be touched by his smile, love and tenaciousness to be happy."
JUWAAN graduated from Centreville High and was a huge Wildcats football fan. Turner's sons, A.J. and Kobie, played football there and became friends with Juwaan, who was a fixture on the sidelines during games, rooting for his beloved team.
"He was always giving of himself, and today we come to honor and remember him," said Turner. "God, we thank You so much for the blessings that Juwaan brought to so many of us. Even in his pain, he lifted us. He had an ability to affect each and every one of us. God, help us live every day of life to the fullest, like Juwaan did."
Joy Weiner taught Juwaan in grades second through sixth. "He had a happy and loving personality," she said. "He was an integral part of Centreville Elementary School and everyone gravitated to him and loved him. And even though things were hard, he persevered."
Calling Juwaan a "witty, strong, fearless and humble, young man," his mother, Ibis Espinal, told the crowd her son always wanted to fit in and be treated like anyone else. He was nonverbal, but at Centreville Elementary, he was taught how to "talk" via a communication device and learned how to operate his wheelchair.
There, he also made lifelong friends. "Juwaan was part of the school choir, and he learned all the songs and sang at the concerts," said Espinal. "He sang in his own way and had most of his teachers crying with joy. He participated in the Reading Club, where sixth-graders would read stories to the younger students, and he had a waiting list for him to do it. Juwaan also adopted 'Juwaan Time,' which meant personal, one-on-one time with another person. And he led his sixth-grade graduation ceremony and received a spirit award."
But, added Espinal, "He wouldn't have been able to accomplish some of these goals without the encouragement and dedication from the school administration, teachers, aides, occupational and physical therapists, doctors and case manager working together."
She also thanked particular family members, friends and organizations for all their support of her son. And to his sister, Shanelle, she said, "He loved you so much. You taught him how to say 'Yes' and 'No,' helped with his homework, and taught him to play, smile, wink and dance."

"In his short life, Juwaan inspired, changed and gave all his love to everyone who knew him," continued Espinal. "He had so much strength and courage throughout his life – even fighting at his final moment. I know he's no longer in pain, has earned his wings and is in heaven watching over all of us."
"Juwaan knew he had a strong foundation of love in the community," said Espinal. "Thank you, Centreville Elementary; Juwaan loved you so much. I just miss my boy." Then, as Shanelle read the words inscribed on her brother's brick, she cried.
AFTERWARD, it was placed into the brick garden at the front of the school.
"It's a way to honor Centreville Elementary students who've died," said Principal Josh Douds. "It's important to remember Juwaan and all that he did. I taught fifth grade when he was here. He was always laughing and brought smiles to everyone's faces. My hope is that he'll bring smiles to everyone else's faces as they enter the building. His memory lives on."
Later, Shanelle said it was "heartwarming to see how many people loved my brother. His spirit was influential, and it's astonishing how many people he touched. And he couldn't even talk – he did it with his eyes and his smile."
To contribute to the Kindness Counts Award, send checks to Centreville Elementary School, attn. Juwaan Espinal, 14330 Green Trails Blvd., Centreville, VA 20121, and write "Kindness Counts Award" on the memo line.