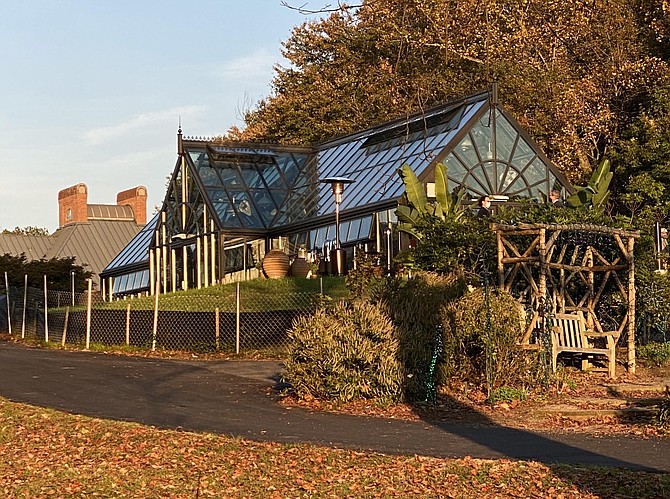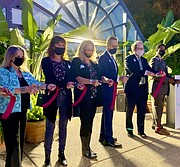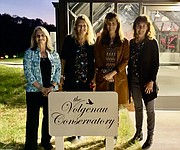 Meadowlark Botanical Gardens held two celebrations on the evening of Oct. 20: a ribbon-cutting opening the Volgenau Conservatory; and a dedication of the dogwood tree planted in memory to the life of David Hobson, a respected career regional parks director.
The conservatory, fully funded by a donation from the Volgenau family, is beautifully situated on a knoll overlooking the park grounds. The climate-controlled 1,200 square foot glass building, equipped with heaters and automated ventilation windows, will be open for public entry with a focus on Mediterranean plants; plants that thrive in a warmer climate. Public school students are expected to visit frequently to learn about horticulture, geography, and the importance of plants in our environment. In the next couple of months, before taking up that education role, the conservatory will serve as the concession center for visitors during the park's "Winter Walk of Lights" event.

The Volgenau family and its foundation are well recognized for charitable giving and community support. George Mason University named its Volgenau School of Engineering in 2005 after a $10 million gift to the school's Department of Bioengineering from Ernst and Sara Volgenau. The "Nature Conservancy", an internationally recognized conservation group, in August 2020 named its coast reserve on Virginia's barrier islands in honor of the Volgenau family's multiple gifts.
Jennifer Volgenau Wiley, who lives in Vienna near Meadowlark Gardens, one of the several family members who attended the ceremony, spoke of her delight with the project. "I can see it next door, and it's showing the next generation to see and appreciate nature." The project combined two of the Foundation's areas of targeted giving, which Wiley described as devoted to "60 percent conservation and land; 30 percent education; and 10 percent classical music."
The dogwood tree dedication, directed by resolution of the NOVA Parks Board of Directors, honored the career and work of long time manager and past executive director of the organization, David Hobson. He started working for the regional park authority in 1968, and became involved in capital acquisition, the main function of the organization, in 1976; in 1996 rising to executive director and overseeing the 19 regional park system. He was lauded during the dedication for his skill in securing grant funding. The authority received over $80 million in grant money during his tenure and amassed land holdings over 10,000 acres. He was best known for his work in acquiring and developing the Washington & Old Dominion Railroad Regional Park, a 45-mile rail to trail project, stretching from Alexandria to Purcellville, now enjoyed by millions of users annually. Hobson, who retired in 1999 after a 31-year career, died in August 2020. The tree, an American Dogwood, is significant as the official state flower of Virginia.
Meadowlark Botanical Gardens boasts 95 acres of ornamental display and native plants as part of the NOVA Parks system. The property includes lakes, woods and walking trails, with a restored 18th century log cabin. Another gem is their formal Korean Bell Garden and bell tower. The only one of its kind in the Western Hemisphere. Installed in 2011, the pavilion was built in the traditional way of Korean craftsmen without use of nails or screws. All pieces fit together precisely in a technique that has been shown to withstand the destructive force of earthquakes in Asia. The tower contains the "Bell of Peace and Harmony" which stands nearing seven feet tall and weighs 6,000 pounds; engraved with traditional symbols, it mirrors designs used in the Silla Dynasty, 57 BCE-935 AD. The bell garden provides a cultural link for the area's Korean Americans, and owing to a partnership with the Republic of Korea, includes plant species typical in a Korean garden, for a natural plant ascetic which tends to a wilder aspect than other oriental gardens.
Winter Walk of Lights Begins Nov. 11
The park is known for its annual "Winter Walk of Lights", a spectacular holiday light show which draws 80,000 visitors during the Fall and Winter event. Described as "magical and dazzling" in the past, this year it may be better described as "enchanting and safe." The event provides masks required, six foot distancing outdoor experience along a half mile plus, one-way trail, with increased sanitary practices observed by park staff to keep common areas clean. Timed tickets for the light show, which runs nightly from Nov. 11 through January 3, 2021, 5:30 - 10 pm, may be obtained through the park authority web site: https://www.novaparks.com/events/winter-walk-of-lights.