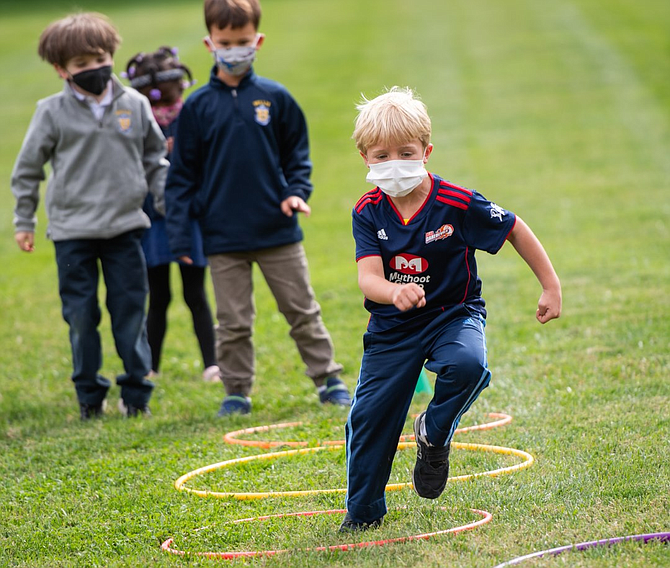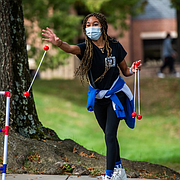 Students and faculty of Bullis School celebrated Founders Festival Week Oct. 19-23 in honor of the 90th birthday of the school's founder.
The week included spirit dress days, outside games throughout the campus, a special assembly, anniversary tee shirts for all and cookies decorated with the Bullis logo at lunch.
"We celebrate Founders Day every year around the date of Commander Bullis' birthday, Oct. 22," said Susan King, Director of Advancement, said.
King wrote Onward Faring, the history of Bullis.
But never was there a weeklong celebration such as the one celebrated this year.
This year, the school decided to postpone Homecoming, hoping to reschedule it in the spring. That, along with the stress of schooling during the COVID-19 pandemic and to honor the 90th birthday, were reasons to make Founders Day into Founders Festival Week, according to Head of School Christian Sullivan, in a video address to the Bullis family.
Students from kindergarten through twelfth grade participated in games during lunch break each day.
From races to school history quizzes to much enlarged games such as bowling, Jenga, Connect Four, Corn Hole and others, students spent time outside competing and collaborating with each other, enjoying a break from classes, and celebrating the long history of their school.
"It was a real festive atmosphere," King said. "It [was] a great week, it was a week everybody needed."
There were also virtual activities: The Great Bullis Bake-Off, Bulldogs on Parade (an art opportunity), Bullis TikTokers, and Alma Mater with a Twist.
"Students and faculty were invited to submit videos of themselves baking Bullis-themed goodies, or creating Bulldog-themed art, singing the alma mater, and so on. A lot of laughs were shared with the school community, and it gave both on-campus and remote students a chance to participate in the festival week," King said.
Because of the pandemic, Bullis is offering a hybrid program described on the school website:
All Lower School students are in classes with a maximum of 12 students. Social distancing and masks are used. Livestreamed classes are available for students unable to attend in person.
Middle School Classes are split into Blue and Gold Teams. Blue team students attend school Mondays and Tuesdays, gold, on Thursday and Friday. Wednesdays are online for all students.
Upper School students are also divided into Blue and Gold Teams, following the pattern of the middle School except they also have remote classes when not in school. Wednesdays for them also are reserved for remote activities.
Bullis History
Bullis moved to Potomac gradually after purchasing 75 acres in 1962, the beginning of the campus at Falls Road and Democracy Blvd.
"Bullis School purchased the Potomac property in 1962 - it was farmland with one building, a farmhouse, at the time. They first acquired 75 acres and added more later (Bullis now has 102 acres)," King said. "The school moved gradually from the Silver Spring location … A few classes were held in the farmhouse in 1963 until South Hall was completed in 1964."
For its first 50 years, Bullis educated only male students, it went coed in the 1981-82 school year. In 1983, the first girls graduated Bullis, King said.
Bullis School began in 1930 when Captain (ANG) William Bullis and his wife Lois Hoover Bullis "founded a small preparatory school in Washington D.C. for postgraduate young men wishing to enter service academies," according to King in Onward Faring.
"Despite the economy, the newlyweds found a suitable place for their school: an old mansion for rent in a prime location — the former Bolivian legation at 1303 New Hampshire Avenue in northwest Washington, D.C. The spacious mansion needed painting, repairs, furnishing and repurposing to be transformed into a school. Dipping into their savings, William and Lois did much of the work themselves and acquired used furnishings and equipment. With paintbrush and ingenuity, they restored areas and arranged classrooms and dormitory rooms.
Bullis School anniversaries are counted from 1930, that first year of founding and elbow grease.
The original Bullis curriculum did not include physical education, but in 1934, calisthenics were added — a half-hour of sit-ups, pushups and jumping jacks that allowed the boys to condition and let off a little steam. Soon it was evident that the students needed a greater physical outlet after studying for hours; at first, they played impromptu football or baseball games on a vacant city lot near the New Hampshire Avenue location.
Service academies expected top physical condition in their candidates, yet Bullis focused on academics to get students through tough service exams. Not all colleges required physical education credits then, although debates in American educational forums argued that it was necessary. For Bullis to continually improve its program, physical education was essential. Part of the issue was finding adequate space and playing fields in D.C., although that would occur with the move to the Silver Spring property in 1935." – From Onward Faring
With the success of the school and the move to a larger campus in what is now considered downtown Silver Spring, Bullis School added high school classes, beginning with 12th grade, and moving backward to ninth, according to King.