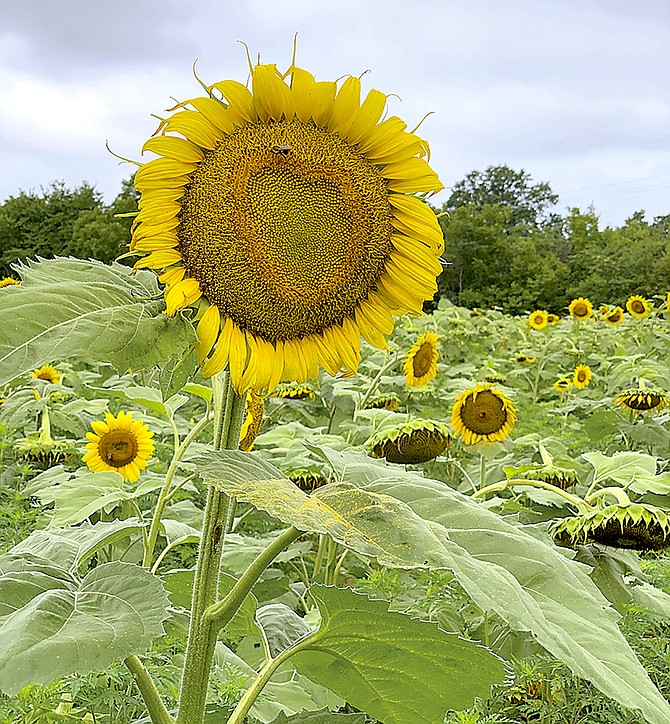 On Tuesday, Oct. 20, Council sent a zoning text amendment that would permit industrial solar in the Agricultural Reserve, land the 1980 Council set aside permanently for agricultural use, back to committee worksessions for more discussion. By Friday, Oct. 23, Council announced a town hall meeting for Nov. 5 to hear more people, especially advocates for the Agricultural Reserve.
The Council still expects to vote on a final version of the plan in January. The zoning text amendment would allow solar "fields" on 1,800 acres of land in the Agricultural Reserve, about 2 percent.
Before that happens, Council President Sidney Katz and Planning Housing and Economic Development committee chair Hans Riemer will lead a series of "stakeholder meetings" this fall, beginning in early November; the first session is scheduled for Nov. 5 at 7 p.m.
Details have not yet been announced. See the Council's website at https://www.montgomerycountymd.gov/council/ for updates, and click on 'How Do I?" for answers on how to sign up to testify, how to watch public meetings, as well as more information on the zoning text amendment.
Solar advocates, including Councilmember Hans Riemer (at-large), say the county will never meet clean energy goals unless portions of the Agricultural Reserve are used for solar power. The Council has committed to 100 percent elimination of carbon emissions by 2035; 80 percent by 2027. This proposal would allow enough solar to power 54,000 homes, according to council documents.
Advocates for the Agricultural Reserve, land set aside for preservation by the county 40 years ago, agree that solar power is important for the county to pursue – just not in the Agricultural Reserve.
Farmers in the Agricultural Reserve unanimously oppose the plan, said Jeremy Criss, director of Agricultural Services for the county. Especially, say farmers and advocates, when parking lots, rooftops, and other parts of the county have not yet shouldered their share of solar.
FOLLOWING THE TOWN HALL, the Council anticipates forming a workgroup that will be assisted by Council staff to meet in November and December to discuss the zoning text amendment in greater detail.
"Stakeholders and Councilmembers are asked to submit amendments in writing to Council staff, so that proposed amendments can be organized and posted online. The town hall meeting and subsequent stakeholder workgroup meetings will all be held virtually, and will be open to the public," according to the Council.
See the Almanac's previous stories for more background: http://www.potomacalmanac.com/news/2020/aug/11/clean-energy-or-farmland-or-both-montgomery-county/
Have Your Voice Heard
The town hall on possibly allowing industrial solar in the Agricultural Reserve is scheduled for Nov. 5 at 7 p.m. The public can participate in this and other issues before the Council by providing comments or testimony in a variety of ways during the pandemic.
Sign up to testify by phone, 240-777-7803 or online


Send email testimony to County.Council@montgomerycountymd.gov

Mail testimony to the Council Office Building at 100 Maryland Avenue, 4th Floor, Rockville, MD 20850

Provide testimony relative to the Council's budget, 240-777-7802

Use Facebook, https://www.facebook.com/ConcejodelCondadodeMontgomery/

Use Twitter
Only live testimony is aired during the Council's public hearing. All testimony is reviewed by Councilmembers. Language translation service requests should be directed to Sonya Healy at 240-777-7926 or Juan Jovel at 240-777-7931.