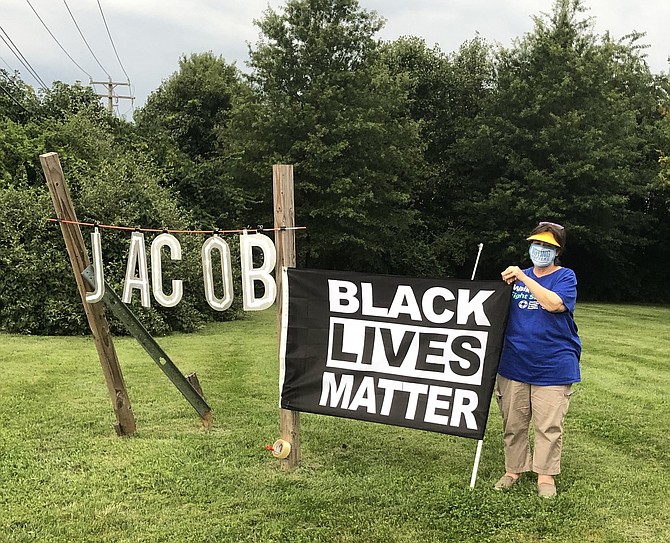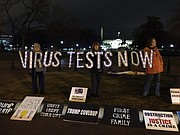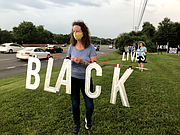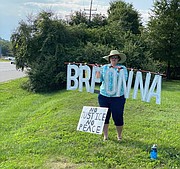 On Aug. 25, for the twelfth Tuesday in a row, a handful of protestors stood in silence next to Leesburg Pike. Their signs displayed the three-word phrase now echoing across the country: "BLACK LIVES MATTER."
The group spells out different messages every week using illuminated white cardboard letters that they string together. On Tuesday, Aug. 18th, it was "BLACK VOTES MATTER." On the 25th, "SAVE USPS," and "JACOB"—a reference to Jacob Blake, the Black man who police officers shot in the back in Kenosha, Wisconsin.
They demonstrated on Route 7 for the first time in June, after the killing of George Floyd.
"We wanted to let Black people know we see their pain, and we also would like other white people to see that you can stand up and say something about it," protestor Dona Dickinson said. "Those of us with the power are the ones that have to change it."
According to Dickinson, the group of ten or so members has been protesting together for over two years. They met through the Herndon/Reston chapter of "Indivisible," a grassroots progressive activism group, and then grew closer after joining the Kremlin Annex protest in front of the White House in 2018.
They had been protesting on Tuesdays and Thursdays at the Kremlin Annex before the pandemic hit—"but that's not safe for us anymore, 'cause we're all old," Dickinson said with a laugh.
Dickinson, a resident of Great Falls who teaches yoga in her retirement, has been politically active for many years, having participated in the Million Mom March in 2000 following the Columbine shooting. But President Trump's 2016 election galvanized her political participation: she now volunteers for local campaigns, writes postcards for progressive campaigns, and regularly protests at the President's golf course in Sterling.
All protestors in attendance on Tuesday, Aug. 25 were white. Diane Dresdner, a retired human resources officer from Chantilly, said that this identity is part of what moves her to protest. She, like Dickinson, is a seasoned protestor, having been arrested protesting the family separation policies of Immigration and Customs Enforcement (ICE)—a blow she could absorb, she said, due to her citizenship status, race, and financial situation.
"Sometimes people get really nasty, and yell and scream things at us, and pull over. And we're older and white. Can you imagine the danger other people might be in if they were out here?" she said, cut off by a car honking its support. "I can do it; I'm retired, I don't have to worry about a job, I'm a citizen, I'm white...Because of white privilege, we have to speak up, because we can."
Dickinson said that she intends to continue the weekly protests until police reform takes place, such as a national ban on chokeholds and reform of qualified immunity. "We're not going to go away until we see some change," she said.