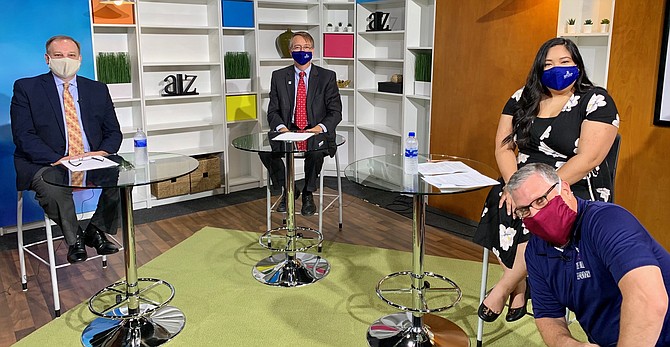 Fairfax County Public Schools held a Special Education Town Hall on Aug. 16, part of its Back to School Countdown. The event featured Dr. Scott S. Brabrand, Superintendent joined by Michael Bloom, Acting Assistant Superintendent for Special Services, Mikaela Antonio, Churchill Road's Special Education Lead Teacher and Ed Windhausen Preschool Teacher Region 3. View at https://www.youtube.com/watch?v=84P4GhMZF2U&feature=youtu.be.
"We recognize the challenges of a virtual start. This is the right approach as we begin the year," Brabrand said. "We are committed to bringing back small cohorts of kids during the first quarter of the year, and prioritizing our special needs kids, including those in special education."
Many parents wondered how their child would receive related services and how they integrate during the school day in the virtual environment.​ Bloom said that related services – speech and language, occupational therapy, physical therapy and counseling – would take place on a continuum of support following the student's Individualized Education Program. The plan would be updated if needed.
"We have some related services that will be provided within a general education setting. Others might receive their related services as part of a pullout small group setting, and some can be delivered individually," Bloom said. As for timing, parents might find related services provided during an asynchronous time. "You, as parents, will be talking with case managers, looking at your child's schedule, and then determining the best time," he said.
Brabrand turned his attention to a caller question about the new attendance policy. He said they were taking a more flexible approach to attendance and needed to focus on engagement. "There can be ways to have flexibility for kids to step out, who need to step out, who need to take that screen break... We're not going to be counting those minutes against them," said Brabrand.
According to Bloom, case managers had worked with parents and students, looking at each child's schedule with time built in for both synchronous and asynchronous learning. He added some teachers would record their lessons for students to access later. Also, case managers planned to help students organize materials. Bloom said they would "be scheduling individual time with students to review those lessons (and) maybe do some level of reteaching for those students... who have executive functions deficits."
A CALLER asked what the technology department could do to simplify the multi-step process to log on for students with severe disabilities and make sure they could engage. Bloom said, "We do know that there are certain populations of students that may have a more difficult time accessing the technology and so there are some supports that can be provided." He said Applied Behavior Analysis (ABA) coaches could work with teachers to identify areas of technology students might have a more difficult time accessing. The division could provide parental coaching sessions. "Our ABA coaches will want to make sure that we utilize as many resources as we can," Bloom said.
According to Brabrand, some of the most vulnerable students would be back to school in-person soon. "I'll be providing an update on Sept. 15, and I am very hopeful," he said. Looking at a phasing model for in-person learning, some of the decision-making centered on not wanting to mix students. "Our first group are preschoolers, our students in our preschool autism classrooms in our early childhood class based classrooms...The second group would be those students again who are accessing the adapted curriculum. These are more of our students that are in self-contained classrooms," said Bloom.
BRABRAND asked Edward Windhausen, a preschool special education teacher at Rose Hill Elementary, to tell everyone how they would keep the youngest learners engaged in a virtual environment. "Tell us the secrets," Brabrand said. "We try to make learning as fun as possible… Children's work is play. Young children are learning through their curiosity, through their experiences, through their experimentation…We can speak through a screen. There was a famous teacher who did that his whole career. Mr. Rogers did that... He taught virtually his whole career, and he was probably one of the best teachers that ever​ lived, " said Windhausen.
Brabrand introduced his last special guest, Michaela Antonio, Churchill Road's Special Education Lead Teacher. She walked everyone through what a school day might look for a special education student. ​Students meet with their general education class in the morning—time to connect with class and friends. The middle part of the day would be to access core content with their general education teacher. Students could be accessing the mini-lesson and then going with the special education teacher to do IEP work or a specialized program. "In each of the grade levels there's going to be that specialized instruction block where some students might do asynchronous work," she said. Still, a special education teacher or instructional assistant would be working with the student. A 30-minute lunch followed and the afternoon for finishing up content work. "There's going to be at least 10 to 15-minute breaks in between," Antonio said.
Fairfax County Public Schools wants this to be a successful school year... It will be a year, unlike any other in Fairfax County Public Schools, but I'm confident that we will continue to communicate with you (and) to partner with you," said Brabrand.