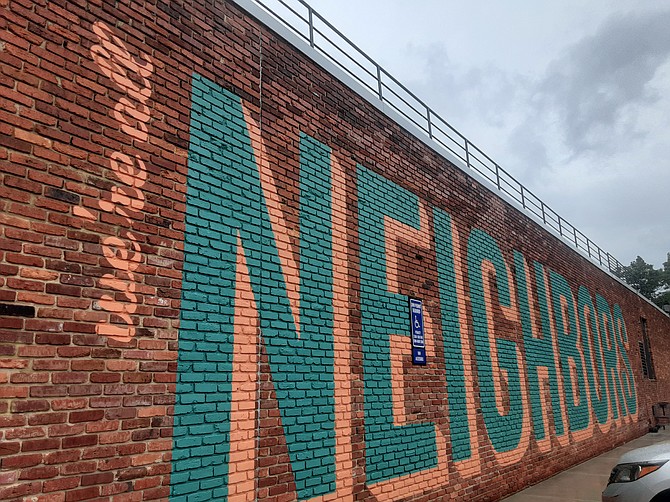 As the headlines lately were dominated by unrest and destruction, Jessica Langley went for a positive message when she was asked to paint a
mural at Old Keene Mill Shopping Center in Springfield. Langley is a mural artist, and looks at this type of signage to brighten up the plain brick wall with a positive message: "We're all NEIGHBORS," in teal and orange block letters
"Murals are impactful, and I am proud to be behind a piece of art with such a positive message of inclusivity presented in such a timely and purposeful manner," she said.
The "We're all NEIGHBORS" wall is the finishing touch on an extensive renovation project that was unveiled in late 2019 at the 90,000-square-foot Springfield shopping center, owned by Federal Realty. New features at the center include new facades and signage, wide sidewalks, a double-sided outdoor fireplace, and furnished pavilions with over 170 outdoor seating spaces at the property for visitors to enjoy, officials said.
Shoppers have embraced the mural as well. "It's a nice upgrade, makes it feel more authentic," said Rachel Amatozzi, who lives nearby in Springfield. "More home grown," she added.
"It's beautiful," added an Amazon shopper that was loading her car under the painting. "Why not?" she said.
"We are a shopping center, but we are a neighbor first. We are rooted here, we're going to be here, and we invite the community to join us," says Deirdre Johnson, Vice President of Asset Management at Federal Realty. "This mural was a great opportunity for us to inject a little energy, have some fun and spread a positive message."
According to Langley, the design took about one month to create and finalize while the painting of the physical mural was completed in just over two weeks. The neighborly message is in tune with this center, as it is a gathering spot for many who live in this West Springfield area. "As a professional artist, my motivation is derived from the positive impact my artwork will have on the community,' Langley said. "Murals not only beautify and enhance environments, but also connect with individuals on a personal level as well," she added.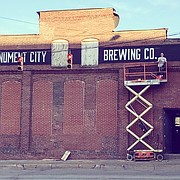 White Coffee Creative
Langley is the founder and artist behind White Coffee Creative, a mural company rooted in Baltimore. She was hired by Federal Realty to make the road trip to Springfield for this project, her first in this part of Virginia. She was looking to expand, and when they said "Springfield," she said "why not?" It's that kind of atmosphere at White Coffee Creative. Three words to describe her style best: colorful, simple, and cohesive.
Past work of hers includes the front of beer places in Baltimore, gift stores, clothing boutiques and a wide selection of wedding invitations.
Langley is into environmental sustainability, and was employed at another Whole Foods from 2012-2015 as a part time in-house designer and artist, designing calendars, store decor, event collateral, and signage. A large portion of the job included hand lettering and illustrating chalk signs.