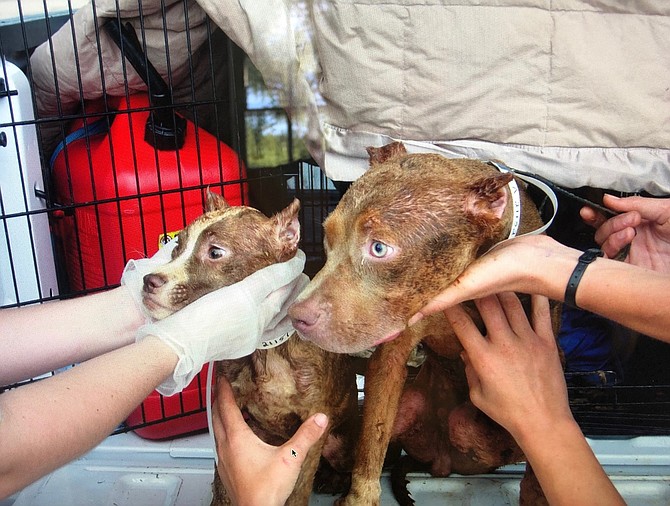 The river sweats
Oil and tar
The barges drift
With the turning tide
Red sails
Wide
To leeward, swing on the heavy spar.
The barges wash
Drifting logs
Down Greenwich reach
Past the Isle of Dogs.
Weialala leia
Wallala leialala


From "The Waste Land" Part III (270)
T. S. Eliot


Adapted from the original story in the Potomac Almanac, for the 15th anniversary of Hurricane Katrina.
New Orleans, Week of Sept. 19, 2005.
Four scrawny dogs rushed against the chain link fence, barking and whining as we approached. I cut open the gate and squeezed myself through a small hole to get to the excited pack. They were agitated, filthy, their fur matted with feces and mud. One had three legs; it hobbled up to me and tried to jump up. I wanted to take it in my arms, console it, but didn't. The Humane Society of the United States (HSUS), who sent us here, had warned us that the dogs were toxic from exposure to the waste. We arrived wearing gloves and boots; we used hand sanitizer and masks. We were not prepared for hugs.
I could hear other dogs barking and found them locked in a small house at the back of the enclosure. When I pried open the door with a crowbar, I had to restrain a small Rottweiler and a spaniel as they tried to dash past me through a blast of fetid air. They were frightened and desperate for attention. I wrestled them back into the stench and held my breath while I left food and water. Reluctantly, we closed the door on their eager faces.
As we prepared to move on, they howled in despair. I had already cried enough tears to re-flood the city for having to leave pets like these behind, in enclosures and houses that were already condemned. It was this way block after block in the now desolate New Orleans.
Hurricane Katrina left the city a wasteland, stark and barren except for the pets that were left trapped in homes. Other pets, who somehow escaped, now roamed the streets frightened and starving. Earlier, during evacuation, their owners were told that they would return soon and were ordered to leave their pets behind. Now, weeks later, the city was still devoid of humans except for the National Guard and animal rescue volunteers from across the country who put their health on the line to feed and care for these abandoned animals. It became a remarkable assembly of selfless toil against devastating odds.
Many of these pets managed to survive the flood by climbing up on the debris piled close by in their pens and now were forced to stand and sleep in the toxic waste left by the receding water. Would their owners ever return? And to what — as hurricane Rita rolled in on the devastation.
We had been told not to take dogs back to the shelter if they were in relatively stable condition. We would traverse the city every few days to feed and water hundreds of dogs like these, trying to keep them alive until the owner arrived or there was room to bring them into our shelter. These were crisis times and these decisions were matters of priority, nothing more.
Because many of the shelters were damaged, vastly overcrowded and understaffed, rescued animals were being triaged in the city then taken to makeshift shelters for processing and more care. Because of the enormity of the numbers, we were told that only dying animals could be brought in at that time. And, plenty were dying.
These were the pets that I, and Jen, a fellow animal lover, hoped to assist when we arrived at the Lamar-Dixon Expo Center in Gonzales, Louisiana.
Lamar-Dixon, a huge expanse of horse barns, indoor arena and acres of land reserved for shows and other events, became one of the major staging areas for rescued pets in New Orleans. In the wake of hurricane Katrina, it suddenly became the largest animal shelter in the country, inundated with thousands of pets in the days following the hurricane. The week we arrived, they were down to 1,000 animals, mostly pit bulls. Other pets had already been rescued by shelter volunteers arriving from every part of the country to be adopted or eventually reunited with owners who were able to locate them.
I had been in New York City when I began receiving emails from various groups posting desperate pleas to come help with pet rescue in New Orleans. The need was immediate and I felt I had to respond.
I met Jen Howard, from Arlington, Va., on the Internet, through a shared clearinghouse for rescue information and volunteer recruiting, for ride shares and blogs, emergency calls, lost dogs, and a last ditch effort for supplies. It also fostered a vast network of new friends. A common goal is all it takes to bond.
Jen and I happened to be leaving on the same day. Like Internet dating, we evaluated each other over the phone, made plans and met at a neutral spot: the Medical Center Metro Stop in Bethesda. She appeared nice; I never asked her what she first thought of me. The age difference was vast.
Between us we had six bags bursting with equipment that the Humane Society of the U.S. suggested we bring: a crowbar, sledgehammer and an ax, and dozens of lasagna pans for water, among other things, which confounded baggage handlers as they struggled with the weight.
We flew to Birmingham, Alabama, now the only place to rent a van and drove seven hours to Gonzales, Louisiana, arriving past midnight on a hot humid night. We crept into a huge tent supplied by FEMA and squeezed out a spot on the floor with two hundred or so exhausted souls and blew up our new air mattresses.
With little sleep the night before (packing the pick ax and other tools took hours), I was exhausted. Waking from a deep sleep I noticed my bones were touching the floor — my mattress had begun to lose air — and I pitched from side to side as the air slipped from under me. I was too tired to inflate it again and faced with a 5 a.m. wake up, I decided to ride it out.
In the morning, we stumbled through the dark to a meeting spot and as dawn brought shape and color to the huge complex, we could hear a thousand dogs begin their sad cacophony of howls, a mournful beginning to our day.
HSUS organizers greeted us and gave us our instructions.
We discovered that we were to become our own rescue team, self-equipped and self sufficient in the wasted land of New Orleans. We, and the mighty tools, were on our own.
Jen and I were given a map with addresses of homes where dogs and cats were to be rescued or fed and watered. We loaded our van with bags of donated dog and cat food, huge containers of water, crates for rescue and repositioned our crowbar and tools. We were given credentials to enter the city. It was daylight when we left for New Orleans.
Because most cars were being turned away, we sat in long lines of trucks and waited. Eventually we showed our credentials and followed the map into our area for search and rescue. The city was empty, the streets strewn with debris, the houses haunted with the remains of lives left in haste and now giving way to mildew and mold.
Then there was the silence. There was so much silence that some twisted corrugated tin, dangling and scraping against itself, caused me to jump as if someone were approaching. We were alone, alone in the deserted wreckage of New Orleans, alone but for the pets. We had the city to ourselves. Birds fluttered song-less. A strong wind blew soft and steady as clouds from approaching Hurricane Rita swirled menacingly overhead. They were cement gray and almost reachable. But, it was the smell in the air that jarred the bones. New Orleans was a wasteland engulfed in its own fetid, sweet odor of decay.
A cat darted from under a washed out porch, clanging against some tin cans, skinny and scared. We stopped the van and unloaded a bag of food, opened several cans of Friskies and left a lasagna pan of fresh water. We called and waited. The cat appeared again, circled the food, looked at us, returned and began to eat. We left and headed to an address that stated that there were two dogs in a pen.
The small dogs were huddled inside a chain link enclosure, cowering. Slime and old pipes, pieces of tin and boards covered the ground around them. They stared at us, trembling. We found old dog food on the ground and stale water in an old cooking pot. Jen, too moved to be careful, picked up a matted dog and held it close to her face. I warned her, but she was not in the mood to be safe, emotion was high and anger deep. Who would leave their dogs in this condition outside? But, who were we to criticize.
When Katrina left the area floundering in its wake, it left 50,000 animals affected. We will probably never know the true numbers, but they are staggering, and the trauma that engulfed the residents who were forced to leave their homes and their pets behind is inconceivable.
We did not have much time and decided we would return for these dogs later in the day and left to look for a particular cat at another address on our map. There, we found nothing so we broke a window looking for the telltale signs of animals. They told us that an overpowering smell of urine and feces will waft through the break if they are alive and too weak to respond, but if the house is empty, the musty smell of mildew and decay will be unmistakable. It was empty and we were relieved, since the owners had moved heavy furniture in front of the doors and windows. We would have had to call for someone to help us break in.
This was a daunting undertaking. We were a fraction of the volunteers from around the country working 18-hour days, breaking into hundreds of houses looking for the 3,000 to 5,000 pets still stranded. Families were told they would be back the following day, but that didn't happen. Now, many animals were being found dead, others, in the last stages of starvation, had to be carried out to the van.
With Hurricane Rita hovering, it was simply a matter of time for the horror to repeat itself; these dogs left behind would not survive another tragedy, and many didn't. But, the volunteers kept searching and were still searching when I returned later to New Orleans and then again to Gulfport and Biloxi, Mississippi.
Finding and saving a starving animal makes sleeping on the ground, in a tent or not sleeping at all worth the pain. Several volunteers were triumphant when they rescued two young pit bulls from certain death. Earlier, they were astonished to hear that a workman they encountered on the street had not returned to his house nearby since the hurricane struck. He had left two pit bulls in a crate at his home. He was sure they were dead. "I paid $1100 for those dogs, so could you please check on them," he said.
They found the dogs alive, forced together inside a small crate. They were reduced to bones, patchy fur. Destined for the fighting pit, their ears had already been cut off, which gave them a strange rodent look in their emaciated state. Later a vet said that they had survived by eating their feces. They were too weak to respond and had to be lifted from their crate. They were taken to the shelter where they were immediately given fluids and veterinary care.
It is these volunteers who are the unsung heroes and heroines of the almost impossible task of trying to save the lives of thousands of abandoned animals. The real story, grisly as it is, has not been addressed fully. It received only a fraction of media coverage; and that coverage usually featured a tender moment involving a cute dog and a loving reunion. But, at best, lost pets vastly outnumbered the reunions, although it was not for lack of caring and effort.
Organizations such as the Humane Society of the United States (HSUS), Best Friends Animal Rescue, EARS, Pasado's Safe Haven out of California, Los Angeles SPCA, New Orleans SPCA, Pet Finders, Humane Society of Southern Mississippi, Day's End Farm Horse Rescue here at home and an intrepid group of individuals working out of a Winn Dixie parking lot in the city are just a fraction of a myriad number of rescue organizations and groups of individuals who left lives at home to come find and save lives in New Orleans.
This HSUS-run shelter at Lamar-Dixon, with 950-stall horse barns, was overrun with thousands of dogs, cats and every type of pet in the first two weeks after Katrina hit. There was chaos, with dogs arriving by the hundreds, and volunteers embracing every dirty task: cleaning crates and washing each dog, in addition to feeding and walking them. Veterinarians arrived from every state to administer shots and save the injured. Many of the volunteers said they broke into sobs of fatigue, sadness and horror at the magnitude of the scene.
In any case, the Lamar-Dixon Expo Center evolved into our symbolic ark and served a purpose more important than any for which it had been built. And, shelters spread out from Tylertown to Gulfport to Jackson, Mississippi, will be remembered always as way-stations for thousands of desperate animals, places where a remarkable amount of volunteer love and energy kept them alive and hopefully, helped them reunite with their owners.
Noah must be proud.
PetConnect Rescue Celebrating 15 years
In 2005, the hurricane Katrina tragedy in New Orleans sparked a momentum from pet rescue groups throughout the country to go there and help. PetConnect, Potomac's fledgling animal rescue organization at the time also responded. Today they are flourishing.
On my second trip to New Orleans several months after the hurricane, efforts to relieve the still struggling shelters had become desperate. But, the Humane Society refused to allow pets to leave the area without the support of a 501c3 rescue organization, and rightly so.
For help, I reached out to my vet in Potomac who connected me with Lizette Chanock, founder of PetConnect, a 501c3. Chanock agreed to help and invited friends and volunteers to her home to welcome the my 30-plus animals that may be headed to Potomac, if I could find a ride for them.
Fortunately, fate stepped in. I met a couple ready to drive their rescues to New York City and made them an offer they couldn't refuse: I would help drive their enormous tractor trailer if they would also take my rescued animals to Lizette's house first. They agreed and we loaded the pets and headed north.
When we arrived, we were greeted by Chanock, who had worked tirelessly with friends who volunteered to bathe, brush, hug and take the tired animals home to foster until adoption. It was a remarkable feat and each pet found a safe and loving home through their efforts.
Today, PetConnect Rescue is far from fledgling. To date, they have adopted out more than 1,259 cats and dogs since August this year, an increase most likely due to the pandemic compared to total 1,295 in 2019. It has been reported that the need for companions has brought a significant increase in the desire for rescue animals, and PetConnect volunteers have been able to step up.
With 100 volunteers and over 300 approved foster homes available when they are needed, PetConnect Rescue can now transport homeless pets from high-kill shelters as well as from the ravages of hurricanes and disaster areas and bring them to safety.
Once in the arms of PetConnect Rescue, the pets may be sick or well, trained or untrained, but they are never left behind. Each volunteer has a special duty, including home visits, to insure that all pets receive the love and future they deserve.
Still based in Potomac, the organization has grown and so has its support, including a zen-like retreat called Muddy Paws Farm in Mount Airy. For 10-years, this quiet spot, founded by Lyn Rales, became a center for volunteers to gather and a landing place for dogs that needed peace and a rest before being adopted.
As we have aged, so has PetConnect Rescue. Keeping up with the old folks, our new Senior Dog program is located at a retreat called Dogwood Farm, owned by Diane Wood. There, these souls with the soulful eyes find kindness and hugs after losing their long-time human companions. Wood, who has at least 25 happy dogs running loose on her fenced farm treats each as if it is her only pet. And, senior dog rescue is thriving, folks. Through PetConnect, these pets have no problem finding another home, this time forever.
For information on adopting a pet, volunteering or donating to PetConnect Rescue, please go to our website: https://www.petconnectrescue.org/.