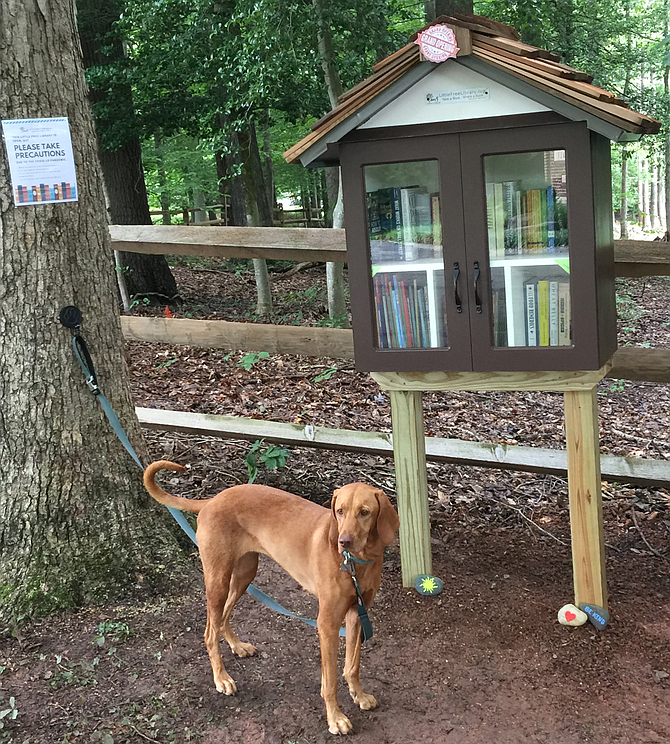 During the pandemic, our beautiful and proudly very quiet Fairfax Station neighborhood "Shadowalk" of 77 homes, to pass the time, initiated new community engagement and volunteer projects. Neighbors donated more than 500 lbs. of food and individually more than $500 for the Lorton Capital Area Food Bank. To coordinate safely, neighbors left bags of food at their mailboxes and they were picked up by the newly formed "Shadowhelpers" who came at a predetermined time. Neighbors volunteer to take out dinner runs including from the Mount Vernon restaurant and a local sushi restaurant. People left free homemade masks in a box at our bus stop along with book donations. That led to our largest community project – a community little free library.

Community members came together this summer, and designed and built the first chartered Little Free Library (#104242) in Fairfax Station which is available to everyone (one tree over from our bus stop). The community has donated to date more than 200 books which included the youth recommending books, and others. There was a socially distanced champagne toast for the unveiling.
We still value our privacy but are finding community engagement is an increased value as well. At the base of the library, some "kindness" rocks have started to show up. Outdoor social distance yoga classes are occurring and plans are underway for recognizing our veterans and doing a community history project. Although we have been around since the mid-seventies, we are also starting our first "welcome committee" for new neighbors. Not that we were looking for it, but something has changed for the better.
If you come by our library (it is open to all), please park safely. It is one tree over from the bus stop.