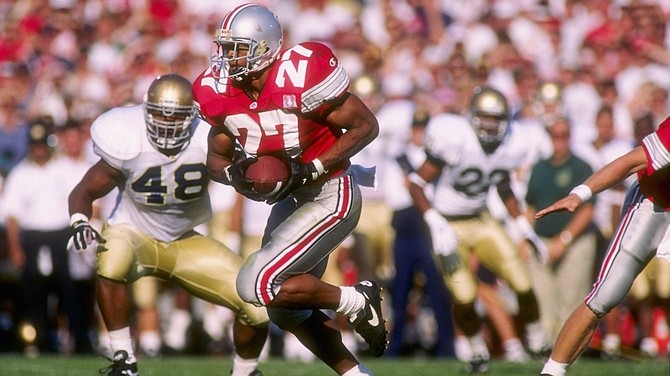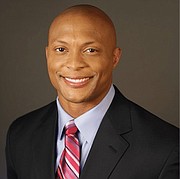 Heisman Trophy winner and four-time NFL Pro Bowler Eddie George will be the featured speaker at the Sept. 16 meeting of the Alexandria Sportsman's Club.
Born in Philadelphia, George graduated from Virginia's Fork Union Military Academy before beginning his college football career at Ohio State. He was the Heisman trophy winner in 1995 and a first round NFL draft choice of the then-Houston Oilers (now Tennessee Titans). He will speak to the club on the challenges he has faced throughout his career.
"I attribute everything in my life to my Fork Union experience," said George in a recent phone interview. "The education focused on the whole person – spiritual, body and mind. It cultivated the best in me and taught me to strive to be something more in life."
George said that he chose to attend Fork Union "hoping it would spark something in me to turn my life around. I needed to be planted in that type of soil."
George earned NFL Rookie of the Year honors in 1996 and from 1997-2000 was selected to four consecutive Pro Bowls. He still owns virtually every Tennessee Titans rushing record and led his team to Super Bowl XXXIV before retiring after a final campaign in 2004 with the Dallas Cowboys.
George is only the second NFL running back to rush for 10,000 yards while never missing a start, joining Jim Brown. Only Walter Payton (170) started more consecutive regular-season games than George's 130. He was inducted into the College Football Hall of Fame in 2011.
Following his retirement from professional football, George earned an MBA from Northwestern University's Kellogg School of Management.
"I was always thirsting for more knowledge and business school intrigued me," George said. "I had a lot of questions about business and wanted to fill in the cracks of the foundation of my business acumen – areas like finance, marketing and business relationships."
Today George is an entrepreneur and philanthropist and with his wife established the Tamara and Edward George Legacy Fund, a 501(c)(3) nonprofit organization of the Community Foundation of Middle Tennessee. Together they provide financial and community help to organizations and individuals that support excellence in education, entertainment, and entrepreneurship.
Still, the transition from professional sports to businessman and entrepreneur was not always an easy one.
"It's very hard to let go of a professional sports identity and find your next purpose," George admitted. "Finding that purpose is a process that takes time, patience, diligence and a lot of work on self-improvement and self-development. It's a difficult process but nothing worthwhile in life worth having is not difficult."
But George says that while adversity comes to everyone, how you choose to respond is what is important.
"We try to resist pain, try to go around it, try to pray away our difficulties," George said. "But the very things we are praying for to go away in our lives are the blessings that bring out the best in us. It's like the continual process of refining gold. We may not like it but pain is necessary for our growth."
The Alexandria Sportsman's Club meeting will be held via Zoom and pre-registration is required. The event is free and open to all but is limited to 100 attendees so early pre-registration is encouraged. For more information or to register for the Eddie George event, visit https://alexandriavasports.org/.