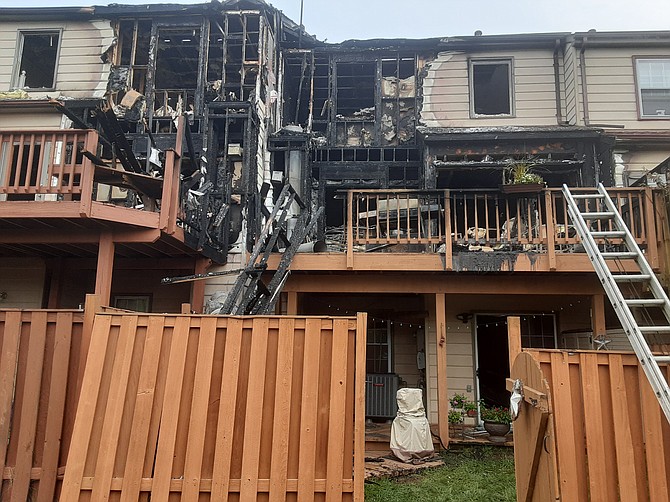 In the afternoon hours of Sunday, Sept. 13, several companies of firefighters responded to a fire that broke out in a Kingstowne townhouse near Hayfield Road.
According to Fairfax County Fire and Rescue, firefighting crews from Fort Belvoir and Alexandria assisted the Fairfax County Fire and Rescue in extinguishing the townhouse fire in 6000 block of Wescott Hills Way in the Kingstowne area. The fire spread to a second townhouse. There were no reported injuries, they said.
The neighbors were on the scene, looking at the aftermath and thinking about next steps to possibly help the inhabitants. One said he heard it was the grease from their grill, which was on the wooden deck, but it is still under investigation, fire officials said.
This fire occurred right before Fire Prevention Week, which is Oct. 4-10. This year's theme is "Serve Up Fire Safety in the Kitchen!" This focus on cooking fire safety comes in response to home cooking fires representing the leading cause of U.S. home fires, with nearly half (49 percent) of all home fires involving cooking equipment. Unattended cooking is the leading cause of these fires.
EVERY OCTOBER for the past few decades the fire department has invited community members into fire and rescue stations for Open House events during Fire Prevention Week. This year it is safer for the Fairfax County community and members of the Fairfax County Fire and Rescue Department without traditional Open Houses at fire and rescue stations.
Instead, FCFRD will be hosting virtual events throughout Fire Prevention Week beginning on Monday, Oct. 5.
A virtual open house will occur throughout the day on Saturday, Oct. 10 on FCFRD social and digital platforms. Register online to be eligible for prizes and to enjoy our specially prepared weekly selections! Register here: Virtual Fire Prevention Week 2020 www.fairfaxcounty.gov/fire-ems/node/354