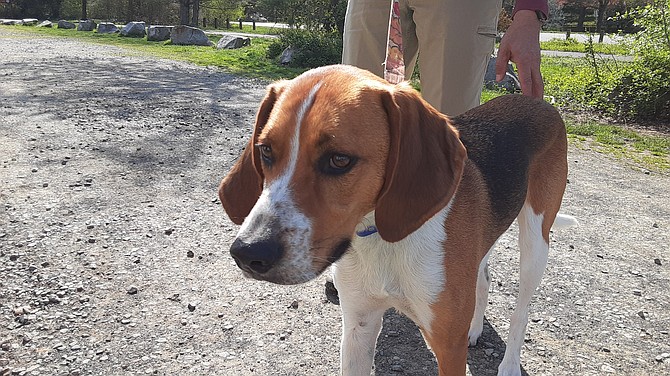 It's a numbers game in the world these days, and even dogs in Fairfax County get a registration number with the annual payment of $10 as a license fee, which ends up in the county General Fund, covering lots of things including the animal shelter program and rabies vaccination records.
According to the county, the Department of Tax Administration administers the dog licensing program and collected $798,452 from the license fee in 2020.
At a county dog park in Mount Vernon, most dog owners didn't seem to mind paying $10. "It's only $10, no big deal," said Roxanne Parks, a Mount Vernon resident who was walking her dog, Milo, an American Foxhound that was wearing the county tag.
Same with David Carver who was with "Trapper," an Airedale. "Sure, anything to make sure they have their vaccinations," he said. Another dog owner wasn't concerned but "my fiancée had an issue about it," he said.
At the dog park, the registration rule was reiterated on the sign. Rule #3 states dogs must be legally licensed and vaccinated.
Department of Tax Administration is required to obtain a current certificate of rabies vaccination before issuing a dog license, pursuant to County Ordinance Section 41.1-2-3 titled "Certificate of vaccination prerequisite to issuance of dog licenses." It states that no license tag shall be issued for any dog unless the Director of Tax Administration receives either a certificate of rabies vaccination, or a rabies vaccination exemption certificate. The objective is to ensure that all owners of dogs four months or older get their dogs vaccinated against rabies by a licensed veterinarian or veterinary technician under the supervision of a licensed veterinarian.
All licensed veterinarians in Virginia are to provide the county with rabies certificate information, and they compare that information with official records, and mail license applications to dog owners that have not yet registered their dogs.
For dog owners that don't register and eventually pay the $10, the county will find the scofflaws. Code of Virginia 3.2-6536 allows for summons to be issued to dog owners for failure to pay the required license fee, and owners are liable for payment of all associated costs (including court costs).
New licenses must be purchased by Feb. 1 each year and license tags are issued free of charge for service dogs that assist residents who are visually impaired, deaf, or need mobility assistance.