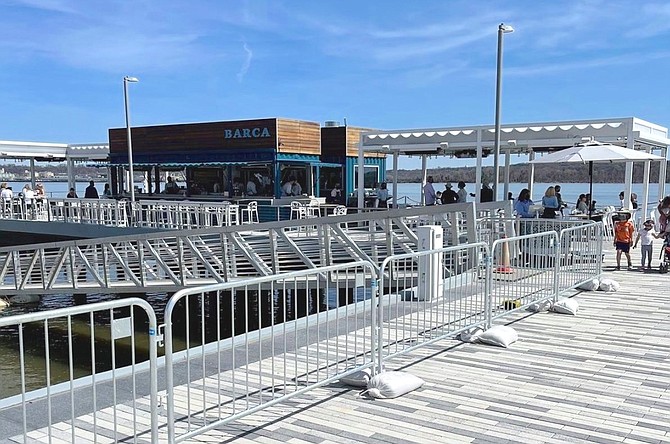 As the weather warms up and the dogwoods begin to blossom, it seems a perfect time to celebrate spring – and all the outdoor dining it entails. From new waterfront wine bars to refreshed loft décor to expanded brewery offerings, there's so much going on in Alexandria's food scene. Here are some of your best bets.
Barca Opens on Alexandria Waterfront
Just in time for glorious spring weather, Barca has opened its doors in Old Town. The Spanish tapas and wine bar has taken up residence both directly over the water with its Pier concept and in a more brick-and-mortar style restaurant via the Wine Bar. Either way, diners can soak up some sunshine and fresh air (or air-conditioning, in the indoor dining room) while they sip on wine, beer and cocktails and nosh on the likes of pan con tomate, a variety of cheeses, salads, sandwiches and more.
Lena's Celebrates Spring with Full Bloom
Since early in the COVID-19 pandemic, Lena's Pizzeria and Tap has sought to find ways to spice up outdoor dining via its Loft at Lena's, celebrating each season with themed décor and menu items as the calendar continues to turn. Now it's springtime again, and Lena's is embracing all the weather has to offer with its Full Bloom concept.
"With the seasons changing so are we! Our incredible team has really outdone themselves to bring the community an exciting and bold, completely original, new spring concept," Lena's owner, Jason Yates, said in a statement. "The Yates Family and our entire team look forward to welcoming you and after this past year; it's time we all live life in full bloom."
Port City Expands Outdoor Space, Hours
Get ready to lift a pint of Optimal Wit for this: Port City Brewing Company is celebrating the dawn of spring with longer outdoor seating hours – as well as additional seating space. The new hours are 3-9 p.m. Monday-Thursday, noon-10 p.m. Friday and Saturday, and noon-8 p.m. on Sunday. Further, the brewery is retiring its reservation system, so plan for first-come, first-served service.
Hope Nelson is the author of "Classic Restaurants of Alexandria" and owns the Kitchen Recessionista blog, located at www.kitchenrecessionista.com. Email her any time at hope@kitchenrecessionista.com.