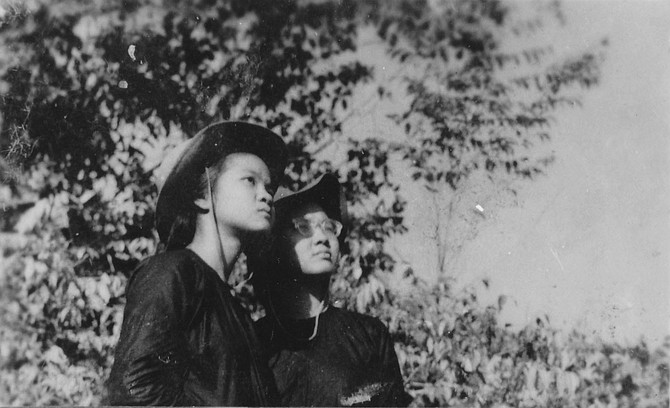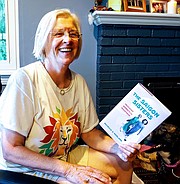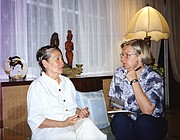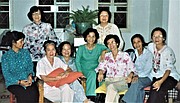 Patricia (Kit) Norland sat listening to a Vietnamese social worker in 1988 in Saigon as Oanh explained in beautiful English what it was like to suffer postwar trauma with poverty, unemployment, domestic abuse and street children. Norland was at that time working for a small non-profit organization dedicated to improving relations between their two countries in a time when there were no formal diplomatic relations.
Norland returned to Vietnam a year later to interview Oanh and eight other women who had all attended the prestigious Lycée Marie Curie in Saigon and had left their lives of privilege to fight French occupation, each in her own way. Their stories are included in the recently-released book, "Saigon Sisters."

Norland explained the "Sisters" lived in a cocoon of French society where the children were given French names, wore French skirts and had to salute the French flag. They didn't even know what the Vietnamese flag looked like. As the women encountered the history of other countries during their studies at the Lycée, they realized they didn't know the history of their own country and needed their own revolution. They wanted a more egalitarian society.
Some took off their silk garments, donned black pajamas, grabbed their knapsacks packed with sandwiches by their mothers and headed across the street to the bus stop to join the revolution in the jungle.
Thanh was gifted in English and French. She had the tragedy of being married off to an older officer and having children with great physical and mental difficulties who died. But in time she became a diplomat and translator serving as an aide to Mme Nguyen Thi Binh, the foreign minister of the National Liberation Front.
Thanh's sister took a different route when Trang fell in love in the jungle and had a love child. But in 1954 she went north as a double spy and was asked to live with another man where she became involved. Since she couldn't keep her daughter, she asked her older sibling to raise Autumn and to park her pram out on the street so she could stop by and smile at her.
Le An left behind her mother and grand villa to perform in an artistic troupe serving military units in perilous places. Their theme was revolution.
Norland was fascinated by how these women who had attended the Lycée, the gold standard of education, and had the whole world at their feet could choose the revolution. These were girls who were expected to have few ideas, to care for the home. Reading and writing was enough. They were taught to smile, not to laugh; and to walk, not to drive. They wanted to live more; they wanted to be free.
One girl described the resistance as the greatest university. She said she went from an upper class girl to a peasant who could do all the hard work of life. She said at home she never ate fish sauce or salty fish but "Now I can eat anything and at home I slept on a mattress but now I can sleep on the floor. Nobody could imagine. My whole personality changed."
Norland says part of the background surrounding what happened lies in the history of Vietnam fighting off invaders. In addition, the Sisters were a generation at the crossroads on the hinge of feudalism.
Norland adds that you can't underestimate the role of culture itself where music and literature are extremely powerful and inspired people to leave the classroom and rise up against colonialism.
Listening to the ballads of Tuyen's brother Luu Huu Phuoc "who would not have tears in their eyes?"
Then 1950 was a watershed year with three events triggering their actions. First was the January demonstration demanding the release of imprisoned students with one demonstrator shot by French police. This was followed by a river of students marching in protest on Jan. 12, and then a big anti-America rally on March 19 demanding the immediate departure of two American ships which had come to the assistance of the French.
These women met again years later in 1981 at the death ceremony of a friend and continued to stay in touch.
Now over 30 years later, Norland has written a book chronicling the lives of nine women of privilege who gave up their lives to fight for an egalitarian society. Norland waited so long to write the book because "I wanted to see how their lives proceeded."
This is also a "packed" book with a number of different themes, and Norland said she struggled with the best format for presentation. It is a book about politics and learning the lessons of the past as they apply to your own country's struggles, and it is a story about how nine women broke through the barriers of tradition to fight for a new life.
Norland joined the Foreign Service in 1995 where she served as a diplomatic officer in Vietnam, Laos and Thailand.
"We knew so little about why we were there. There are many unrepresented voices; it's been mostly through an American lens. The Sisters were able to understand the motivations and the cultural touchstones." They were eyewitnesses to a dramatic and traumatic period of history. Norland decided to wait until she had retired to write the book.
Norland presented her book at an online event sponsored by Solid State Books in Washington, D.C. on March 31. The filmmaker Ken Burns says "this book is destined to become a classic." The book is available on Amazon.