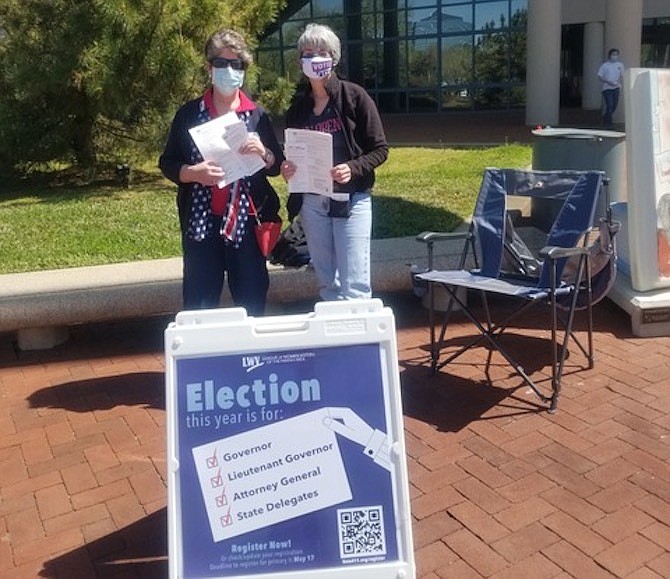 Fairfax County residents getting their COVID-19 vaccinations at the Fairfax County Government Center can now also obtain information on registering to vote. League of Women Voters of the Fairfax Area member, retired physician and volunteer vaccinator Arina van Breda came up with the idea after watching hundreds of people file through the Center daily as she was administering vaccines. "Since one of the League's main goals is to encourage people to vote, I thought we could approach people as they exit the Center and provide information on registration, as well as on the Virginia Republican nominating convention on May 8 and Democratic primary on June 8," she said. "Voting is as important to civic health as vaccination is to our public health."
Registering voters this year is of particular concern since statewide the number of new voters registering was down last year, due to the COVID crisis. On the first day of this effort, van Breda and fellow LWV-Fairfax members Mary Valder and Yasmin Shafiiq, spoke to more than 400 people.
The League is a non-partisan and non-profit organization founded in 1920, six months before the 19th amendment was ratified and women won the vote. Members are encouraging Fairfax County residents to register to vote by using the Virginia state Department of Elections online portal, or providing paper voter registration forms, which can then be dropped off at the Office of Elections at the Government Center or mailed in. Van Breda expects LWV volunteers to be present at the Center until the end of May or as long as the COVID 19 vaccination clinic is ongoing at that site. She emphasized, however, that the deadline for registering for the June 8 Democratic primary is May 17. Early voting began on April 23. The filing deadline to be a delegate for the Republican Convention has already closed but anyone interested in voting at the primary or the Nov. 2 general election can register now. Candidates for the following Virginia offices are up for election: Governor, Lieutenant Governor, and Attorney General. Several Fairfax County districts will also be electing their representatives for the Virginia House of Delegates.