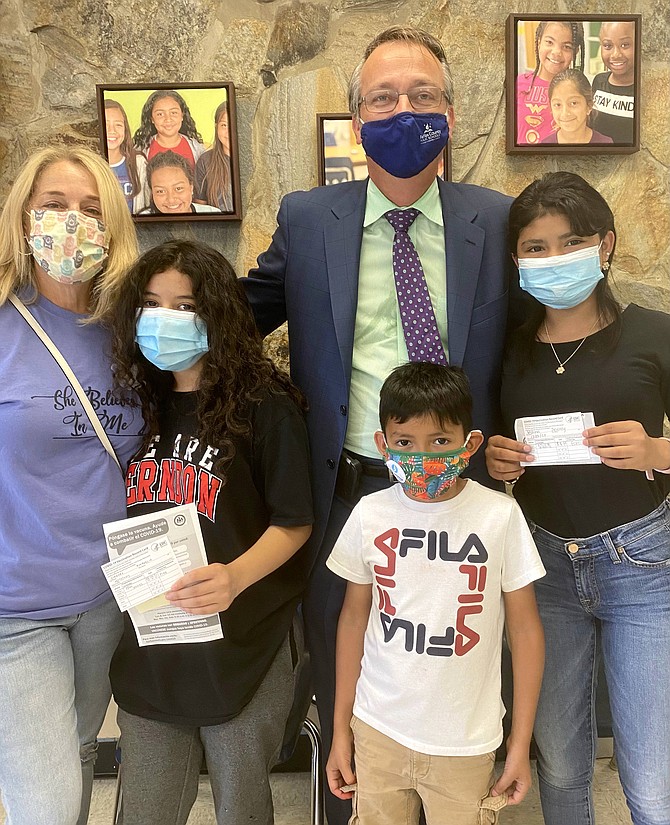 The level of community transmission of COVID-19 in Fairfax County is increasing again. It entered the "substantial" category, the second to the highest level on Tuesday, Aug. 2, following an upward trend reported by the CDC. The same week, Fairfax County Public Schools (FCPS) continued vaccinating eligible students at school-based clinics under a public-private partnership.
During a media event on Wednesday, Aug. 3, while visiting one of the clinics, Superintendent Dr. Scott Brabrand announced that FCPS wants to be ready to roll to get eligible children vaccinated during the school day with parent permission. There are 83,000 students under the age of 12 entering school buildings for in-person learning on Aug. 23, according to Brabrand. Because of their ages, the students are not yet eligible for the vaccine.
Fairfax County Public Schools, in partnership with the County's Health Department, hosted free school-based COVID-19 vaccination clinics for adolescents 12 years of age and older at three school clinic sites, Herndon Elementary on Wednesday, Aug. 4, Justice High School in Falls Church on Thursday, Aug. 5, and Liberty Middle School in Clifton on Friday, Aug. 6.
ON WEDNESDAY, Brabrand visited Herndon Elementary School to see firsthand the public health initiative underway. According to Brabrand, the division finished the last school year, getting almost 5,000 students their first COVID-19 vaccine dose. The division plans to have additional clinics up running this fall under a public-private partnership.
"[Currently], we are at 75 percent in Fairfax County Public Schools of 12 to 17-year-olds to have their first dose. Now, we want to get that number even higher, so we have school vaccination clinics this week at multiple schools, and we want to continue," Brabrand said.
"The solution to this pandemic, to make sure all schools return in this county five days in person, is the vaccination of all of our eligible students. Right now, it's all of our 12-years-olds and up. We are preparing and working very closely to have more school vaccination clinics this fall at, at least 40 locations," Brabrand added.
According to Brabrand, as the eligibility age for vaccination goes lower and lower, the division will be able to vaccinate thousands more children "to have a year that is as close to normal as possible."
"Vaccination is part of the solution," said Brabrand.
Students accompanied by their parents and guardians continued to enter the school to take advantage of the COVID-19 vaccine opportunity. Maycoll (last name withheld), 12, sat in the large room with others in the process of getting their vaccination. Maycoll said he would be attending Herndon Middle School in a couple of weeks. After receiving his immunization, Maycoll said, "It didn't hurt, just a little pinch. I relaxed my arm."
Rising freshman at Herndon High School, Kimberley Jiminez, 13, of Herndon, was about to exit the school clinic after receiving her vaccine. "I feel safe now because I got the vaccine [but], I will leave my mask on because others may not be vaccinated, and this is my first dose."
According to Brabrand, like many other schools in Northern Virginia, Fairfax County Public Schools is starting the school year 2021-22 with universal masking to counteract the Delta variant and reassure staff, students, parents, and the community that the division is committed to safe learning in school buildings.
BRABRAND said FCPS wanted to be very clear about social distancing. "Ninety-nine point five percent of our students are returning in person. Social distancing is not going to be possible in all of our schools and classrooms, and we're not going to build a false expectation to our community." He said where schools and classrooms could have additional capacity and additional distancing; social distancing would be possible.
Instead, schools are focused on layered mitigation strategies in line with the CDC – universal masking, upgrades to ventilation systems, and continued sanitation and hygiene efforts practiced well.
In addition, there would be professional monitoring sourced outside of FCPS. "We'll continue to have safety teams coming in, an outside company similar to the one that Loudon County used, to continue to make sure that our staff is following all the safety procedures to keep schools safe," said Brabrand.
He added that contact tracing would continue to be done because "the more contact tracing support we have, the quicker we can turn around having kids who may be paused at home, so they can get back in the classroom."
Brabrand said to make immunization of their children easy for parents and guardians who give their permission; it will be provided within the confines of the school day, even for the youngest children. "So, we're super excited about that. We really want to model for the rest of the country, vaccinate. We need to move away from the battles. Everybody needs to have kids back in school. Once they're back in school, we've got to make it seamless and easy to get everyone vaccinated, including our students and including our youngest students in elementary school."
According to Brabrand, FCPS is working on a protocol where parents can give permission and not physically be present with their children when the vaccine is given in school. However, FCPS knows some parents will want to be there, and they are working out the details.
Jeimmy Molina, 13, on her way to Herndon Middle School, received her vaccination. In an interview, Jeimmy answered what she would tell those with vaccine hesitancy. "To my friends and family, I'd say that I did it, and I encourage you to do it too."