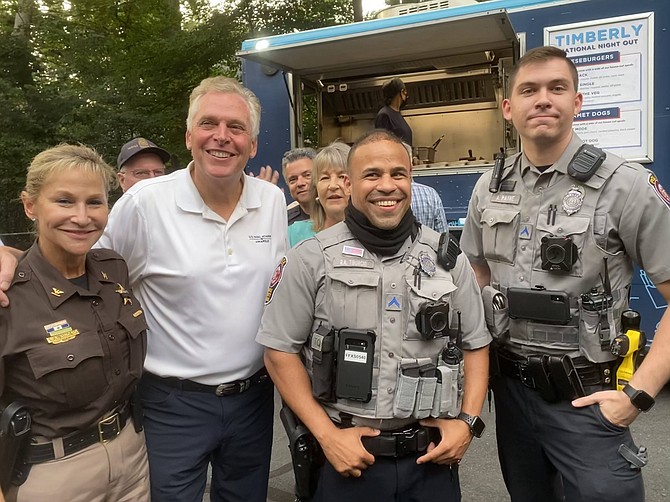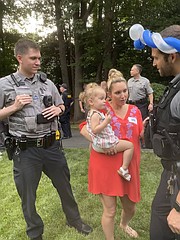 Residents and friends of the Timberly neighborhood in McLean took part in a block party with visits by Captain Dalton Becker, commander of McLean District Station, Fairfax County Police Department, and his officers, and Fairfax County/Fairfax City Sheriff Stacey Ann Kincaid and her deputies for National Night Out (NNO) 2021. The Timberly Neighborhood was one of three registered National Night Out campaigns in McLean and one of 140 held across Fairfax County Tuesday, Aug. 3.
According to Becker, he and others from the McLean District Station enjoyed visiting the Timberly Neighborhood, the Armistead Park Neighborhood, and the Halstead at the Metro during National Night Out 2021. Becker said that they have the event marked in their calendars every year. "We enjoy the opportunities to connect with our community members throughout the McLean Police District and this year was no different."
Timberly Neighborhood organizers Leslie Mason and Jeff Crosby welcomed Captain Becker and the station's officers and Sheriff Kincaid and her deputies to the celebration. Sheriff Kincaid said they had a wonderful evening celebrating National Night Out with community members and the public safety team.
"This event gave us the opportunity for great conversations with adults and children that we may not have met before. It was also a chance for us to share what public safety is doing and learn how we can best serve the neighborhood," said Sheriff Kincaid.
Officers and deputies visited between calls but remained prepared to respond in a heartbeat if needed. Fairfax County firefighters, EMTs, and paramedics stopped by with their fire engine and rescue vehicle, a special treat for youth who enjoyed a seat up front at the wheel.
The interaction proved important to the Hodson family. "We just moved in two weeks ago. We wanted to come out and support the police, firefighters, and first responders for all they've done during the pandemic," said Kristen Hodson.
First responders, neighbors, and local elected officials rediscovered the joy of in-person conversations for many, the first since the COVID pandemic isolated them. The elected officials mingled with their neighbors and chatted with police, deputies, and first responders, appreciative of their efforts to keep the neighborhood a safe, caring place to live.
Dranesville District Supervisor John Foust (D) stopped by too, as did former Virginia Governor (2014-2018) Terry McAuliffe, the Democratic nominee for the state's gubernatorial election on Nov. 2.
"The Board of Supervisors proclaimed Aug. 3 as National Night Out in the county. It's a great opportunity for residents to participate in an important crime prevention program and to show our respect and appreciation for the police officers who serve us. It is also a great community-building event and a lot of fun for those who participate, especially the kids," said Foust.