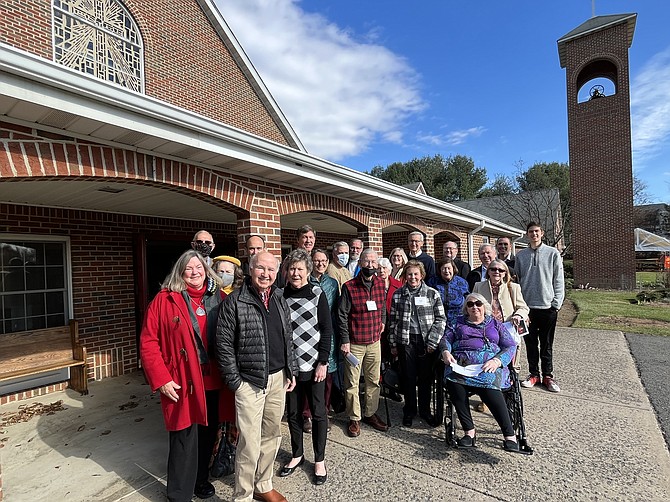 The Sunday before Thanksgiving, 2021 was "a good day," according to Rev. Henry J. (Hank) Langknecht, who serves as pastor at Christ the King Lutheran Church in Great Falls, Va. Forty years earlier, another pastor, Thomas Dudley and his wife Elizabeth had been asked to start a Lutheran Congregation in Great Falls. 
After determining interest, a charter was formed in late 1981, with approximately 100 adults and 75 children signing the roster. The church building was completed just over four years later, and the cornerstone was laid in September 1985.
On Sunday, Nov. 21, 2021 Christ the King Lutheran Church celebrated its 40th anniversary with two key events, a morning worship live and streamed at 11 a.m. and an anniversary concert live at 2:30 p.m. But the day was not what Langknecht and others had anticipated in the early spring of 2021 for the congregation of around 400 people. 
"In the spring, we had high hopes that COVID restrictions would be lifted by November, allowing for a banquet and two or three worship services," Langknecht said.
But by mid-September, with no imminent relief in the COVID status, Langknecht and two others explored ideas for the 40th anniversary celebration. Jane Cooper, a volunteer, and Derek Maseloff, director of music and organist, agreed their course of action would be to network with others and put together a plan for a "subdued but still celebratory day." However, that, too, was not meant to be.
Plan C went into action. "Somewhere in October we decided we had to go low, low, key because of COVID," Langknecht said. The trio came up with the idea of having a pie auction all morning. The congregation loves pie auctions, used as fund raisers for their youth programs. 
"Generally, we have a wild group of people in the hall, bidding on pies, and it gets very fun and boisterous," he said. People could bid on pies for their Thanksgiving dinners, but the bidding had to be done through a silent auction instead.
They would had a worship service with an Anniversary Declaration, a little hymn sing, and a birthday cake. "We would come back for the concert and then we would send people off with chili in a bag," he said. 
The homespun, daylong event went off without a hitch and was made more meaningful because, limited in scope, the congregation held tight to each moment and focused. One part made Langknecht's heart cry happy tears he said.
"We had just under 100 people in worship at 11 o'clock. But even with masks, the singing was great. … We closed the worship service by singing two of the congregation's favorite hymns. One was the hymn, 'We Are Called,' and the last hymn was 'Joyful, Joyful, We Adore Thee.' I'd say that was definitely the highlight of the day, singing those two hymns."
Congratulations and remarks poured in from former and current congregation members.
Marge and Glen Sjolblom of Richmond, former Great Falls residents and initial congregation members of 1981 wished Pastor Hank and all the members of Christ the King a happy and blessed Thanksgiving on the 40th anniversary of the congregation. "Our family has fond memories of the loving fellowship over all these years, which are many and lasting. We pray God will bless your future."
Jane Cooper of Vienna said that the part of the anniversary celebration that surprised her was the favorite hymn sing at the end. "I sing in the choir, and I had rehearsals for it, but I was surprised at how moved I was. We were singing to the congregation, and they were singing to us. We had our instrumentalists playing with us, and the whole sanctuary was filled with the Holy Spirit. I got choked up. I was feeling that joy of being with so many people again. "
Great Falls resident Karen Magley said she would not have missed it. "I didn't bake a pie this year, but we bought a pie. The one that was in the picture on the front of the bulletin. It was an apple pie, and the crust had been turned into a picture of the front of the church. We took a lot of pictures and hated cutting into it. But it was a very good pie. Christina Wenks baked it."
Nick Spoto, 16, of Reston said that when he returns to Christ the King Lutheran Church for its 80th anniversary in 40 years, he will tell his children about the 40th anniversary. "I will say, it was very raucous, but there were many good people here. And the pies were all very good at the auction. That was the main thing that I remembered."