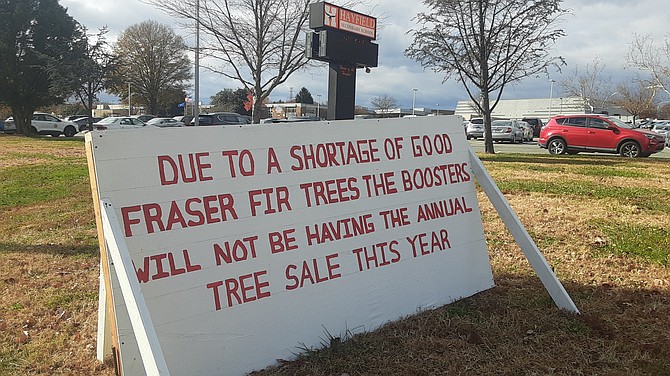 The ominous signs out in front of area high schools this year seem a bit "grinchy," when it comes to holiday spirit but it's a sign of the times with the supply chain — shipping issues, fires out west and economic hardships. 
"Due to a shortage of good fraser fir trees the boosters will not be having the annual tree sale this year," the sign out in front of Hayfield Secondary School read. There was a similar sign up the street at Edison High School, and a few others around the county.

At Hayfield, Mary E. Allan is a booster parent, and she noted that since the pandemic hit, the Hawks Athletic Boosters have had to scale back on what they can provide to all the athletic programs. "The tree sale does have an impact but we have been doing our best to provide what we can to our athletic programs," Allan said. Last year with all the COVID restrictions in place, there was no fundraising but since schools and activities are fully opened, the boosters at Hayfield are back working on fundraising efforts. "Our goal is to be able to provide financial assistance to all our programs so they can be safe and successful," Allan said.
Both Hayfield and Edison get their trees from Rorer's Produce which used to have a stand along Richmond Highway.
There are signs of the tree shortage elsewhere around the area too. At Nalls Produce in the south part of Fairfax County, they are stocked with some trees but also note the shortage on their social media. "The tree shortage is no joke this year! But we are currently stocked with a good selection of Christmas trees," their post read.
Over at Burke Nursery, they had a good supply of fraser firs, but early on in the season, there were problems, said Erika, who manned the desk at Burke. "I know they were harder to get this year," she said.
According to the American Christmas Tree Association, the extreme weather in the Pacific Northwest, and supply chain issues and shipping container shortages are part of the problem. This impacts live and artificial trees, and this will impact the cost too, they said. The fires out west this year could be a factor too.