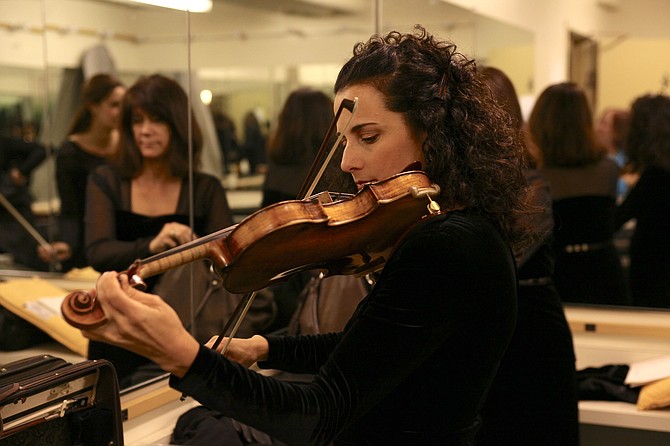 It's a long way from the hallways of Fort Hunt High School to a huge mural on the 110 freeway near downtown Los Angeles, but that's where Fort Hunt alumni 
Julie Gigante's picture is, representing 
the Los Angeles Chamber Orchestra. The 
8-story-tall "Harbor Freeway Overture," is a mural painted by Kent Twitchell that pays tribute to the orchestra.
"It is a little embarrassing for me, I didn't know it was going to be so big," Gigante said. Thousands of drivers see it on the way to work every day, and some let her know they saw her on the building. "I get that a lot," she said, but it's all part of the professional musician's life in LA.
It all started in Alexandria when she was a 5-year-old, taking lessons and getting encouragement from her mother who is also a musician. It took years of practicing and climbing the musical success ladder from the Mount Vernon Chamber Orchestra to the Fairfax Symphony, and the Arlington Symphony. "My mother was a founder of the Mount Vernon Symphony," she said.
Gigante went to the Eastman School of Music at the University of Rochester in New York where she met her husband Tom Rizzo, a jazz musician. She moved with Rizzo out to the west coast in 1985, landed a spot on the orchestra and grew from there. They have two children, James, 28, and Annmarie, 25. The musical side of the family didn't transpire to the children, although Annmarie was into opera at first, but both are now employed in the tech world.
They live in a mountainous part near Los Angeles, and she loves to hike and engage in other outdoor activities when she's not playing music. "There's a lot of cultural activities out here," she said.
Westward Expansion
Being in LA, it isn't unusual for people to come from all over the country to make it in the entertainment world. Gigante landed the position on the orchestra shortly after moving and has excelled since then.
"On top of her natural musical ability and stellar technique, Julie is able to improvise and immediately render on the spot what the conductor/composer demands during a rehearsal or recording session," said  Los Angeles Chamber Orchestra Executive Director Ben Cadwallader. "Julie and her colleagues at LACO are among the most talented musicians in the country, and we are incredibly fortunate to have an ensemble comprised of such brilliant performers," he said.
Orchestra members have played on soundtracks for more than 2,000 movies since Julie has been with them, and the last three Star Wars films were part of that, with composer John Williams leading the way musically. On a few occasions, director Stephen Spielberg showed up at the recordings, tweaking it for the movie. "He's very specific," Gigante said. 
"While the film & TV recording industry and classical music are tremendously challenging and competitive fields, Julie's music career has thrived," Cadwallader said.
The Los Angeles Chamber Orchestra was impacted by the pandemic and adapted to the situation by launching Summerfest in 2020, and then Summerfest 2021 to stream music to thousands. On Nov. 13, they started playing live again and their season will run until May 15, 2022. They did play one live show last summer at the Walt Disney Concert Hall.
Julie loves the live audiences, and the first show back in front of a live audience stood out to her. "It was lovely to play, I'm thankful we can," she said.
She does have fond memories of her life in Mount Vernon though. "I really miss Virginia, love Northern Virginia, love California as well," she said.