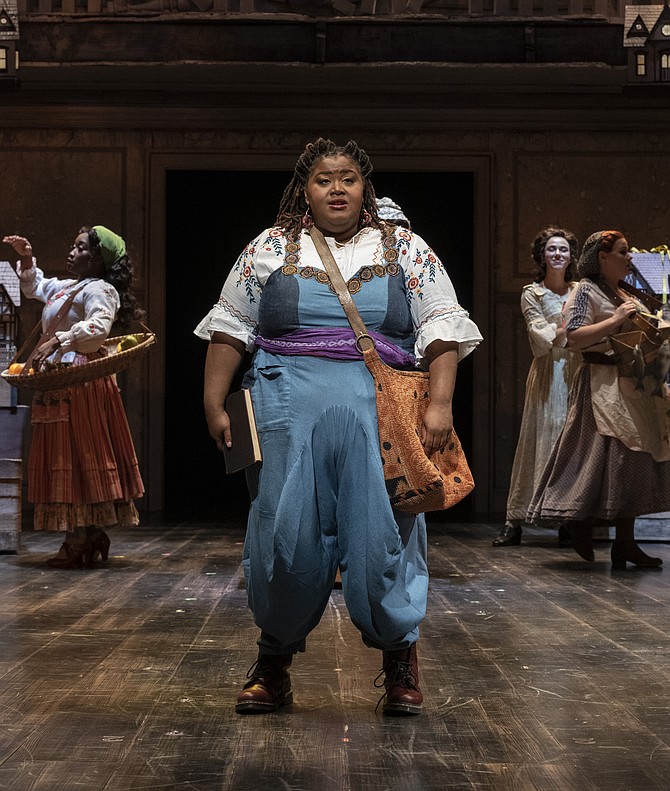 Many high-school theater students aspire to become professional actors, but few actually make it. Jade Jones, a 2008 Westfield High grad, is an exception – and her latest triumph is portraying Belle in a stereotype-smashing production of "Beauty and the Beast" that's receiving national attention.
In Olney Theatre Center's show, the Beast has a prosthetic leg and Belle is a curvy Black woman with dreadlocks, instead of the usual fair-skinned, petite girl. And Jones is delighted with director Marcia Milgrom Dodge's vision for it.
"She had the idea to cast Evan Ruggiero – who lost his leg to cancer – and myself because she didn't want to do a traditional 'Beauty and the Beast,'" said Jones, 31. "We're trying to show that beauty is not one thing – it's something different to every person. It's important to find beauty through your own eyes and to know that beauty comes in all different forms."
After winning a Cappie award for Featured Actress in a Musical in Westfield's production of "The Wiz," in her senior year, Jones attended Ferrum College, graduating in 2013 with a Bachelor of Fine Arts with concentration in acting. Since then, she's done a slew of roles for a wide variety of theater companies and acted in an episode of TV's "Chicago P.D.," this summer.
In 2011, she received a WATCH (Washington Area Theatre Community Honors) award for Outstanding Featured Actress in A Musical as Nell Carter in "Ain't Misbehavin'." Then in February 2020, she was nominated for two Helen Hayes awards – one for playing Little Red Riding Hood in "Into the Woods" at Ford's Theatre, and the other for portraying Nana in Round House Theatre's "School Girls; or The African Mean Girls Play."
Her favorite role was Mrs. Lovett in "Sweeney Todd" with Rep Stage in Maryland because, said Jones, "I love Stephen Sondheim, rest in peace. I've gotten the opportunity to work in four Sondheim pieces; he was a brilliant songwriter and amazing composer."
Her second-favorite part was Little Red Riding Hood. "I loved singing the music, and I was really touched by the whole character," she said. "I connected with the sense of loss she felt for her grandmother because I just lost mine, a couple years ago. And this role also allowed me to do some grieving of my own."
Now, Jones is continuing to wow audiences as a totally different Belle, as is Ruggiero as the Beast. "Evan lost his leg to cancer, nine years ago, but didn't let it stop him from performing," said Jones. "He's a Drama Desk-nominated actor who made a career out of dancing on his prosthetic leg."
"If we cast someone who's not the stereotypical type for Belle, will the audience still be able to see beauty? Of course, it can, because Belle's beauty comes from the inside and shines through because she's beautiful, inside and out."
— Jade Jones
"Normally, under all the makeup, the Beast is supposed to be a perfect specimen of a man," she continued. "We haven't seen that character cast before as someone like Evan. And he's so talented; I can't imagine anyone else playing that role."
Furthermore, said Jones, "I think it's important that our entire cast is reflective of our [diverse] community. One of our objectives is that a person in the audience can look up and see someone onstage who looks like them. We want to encourage attendees to think, 'Wow, I can play this role, too.'"
Frankly, she said, it took her a long time to even question why things were the way they are, and why it was always assumed and accepted that persons of color wouldn't even be considered to play certain parts. "It's not because we don't exist," said Jones. Instead, she said it's because that's been the narrative pushed by society and taken as the norm.
"The hypothesis of our piece is: If we cast someone who's not the stereotypical type for Belle, will the audience still be able to see beauty?" said Jones. "Of course, it can, because Belle's beauty comes from the inside and shines through because she's beautiful, inside and out."
Indeed, Jones was the first person cast in this show. "When I auditioned and got the role, I thought, 'Well, that's interesting,'" she said. "I never identified with Belle, or any Disney princess, as a child. But once I got the role, I knew I could do it. It would be challenging because I'm used to playing a featured or comedic role, not the ingenue who falls in love."
Turns out, said Jones, "I'm having the time of my life. I feel that this character I was so distant from, as far as personality, I've fallen in love with. I've gotten to know Belle and can relate to her, and I'll carry a piece of her wherever I go. And the audience has been great; people ages 3-53 come to the theater dressed as Belle. They love 'Beauty and the Beast,' seeing themselves onstage and rooting hard for their favorite characters. Sometimes, it's like a rock concert there."
Ironically, her understudy, Selena Clyne-Galindo, also graduated from Westfield. "I never knew her before, but she's doing a fabulous job," said Jones. "I did 'Fiddler on the Roof' at Westfield with her older sister. I remember doing really good shows in high school; they were special, highly competitive in the Cappies program and had lots of support from the community."
Although Jones still has some acting jobs in the Washington, D.C. area, she moved to Chicago last year. "We'd go there on theater trips from Westfield, and I fell in love with the city," she said. "It's a vibrant place for arts and culture, and it has so many avenues for creativity – TV, film, improv and music."
Besides acting, she's also a rapper named Litty Official. "I do a lot of rapping gigs and recorded my first mixtape over the pandemic," said Jones. "I released my second album this year, and Litty Official – who's nonbinary and uses they/their pronouns – has their own following, separate from me. I have complete ownership over this creative outlet; and in my next show for Olney, 'A.D. 16,' I'll be rapping. So I've been able to merge my career with my true love – rapping."
Meanwhile, Jones, Ruggiero and Olney's production of "Beauty and the Beast" have garnered national notice, with both People.com and the Washington Post doing stories on them. So, said Jones, "We'll see where it takes me. I trust in the universe and what good karma will bring me."
Does she have a dream role? "No, because I've played roles I never thought I would," replied Jones. "So I think the sky's the limit for me. And I'd advise other, aspiring actors to absolutely go for it. It's a job and we're playing pretend. Everything doesn't have to be so serious; if things don't go your way, dust yourself off, shake it off and just be yourself."
***
"Beauty and the Beast" opened in early November and runs until Jan. 2, 2022. For ticket, date and time information, see 
www.olneytheatre.org
.