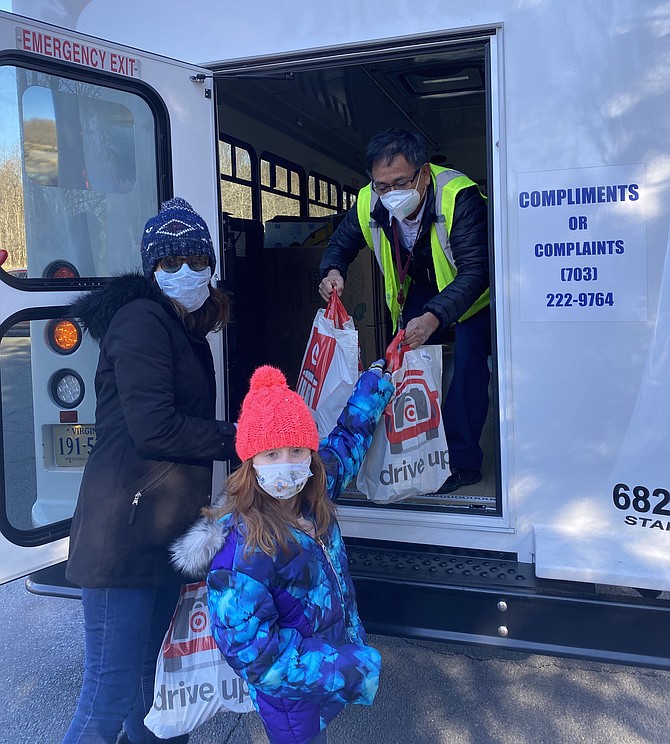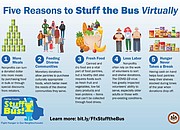 The Wheels on the Bus is a classic children's song that tells the story of a little bus going "All 'round the town." On Saturday, Jan. 30, Fairfax County's little Fastran buses, CUEs and school buses traveled all 'round the county, to 21 locations, in a fight against hunger. For its tenth year, Stuff the Bus was at it again to meet the critical need to help restock local food pantry shelves after the holidays.
The demand for food has never been greater than this year due to the economic disruption caused by the pandemic. The buses parked from 10 a.m. to 3 p.m. outside county facilities, including public libraries, Board of Supervisors' offices and the Pennino building in Fairfax to allow donors to comply with social distancing recommendations and collect non-perishable food donations outside. The buses will return for second runs on Saturday, Feb. 6.
Cars arrived at the Dranesville District, Great Falls Library, 9830 Georgetown Pike, shortly after 10 a.m. Residents of the district had been generous with prior Stuff the Bus donations during the pandemic. Collections at this site would benefit LINK, Inc., a nonprofit that provides emergency food and financial assistance to qualified people in need.
"We can't let people go hungry in our affluent community," said Supervisor John Foust (D-Dranesville District). "The loss of jobs and small business failures caused by the COVID virus have greatly increased the need for food assistance. In the midst of this awful pandemic, it is awesome to see how Dranesville residents have stepped up to support Stuff the Bus with unprecedented levels of food contributions."
Melissa Morgan and her daughter, Hannah, 7, were among the first to place their items on the bus. "We know a lot of people are struggling to find food because they've lost their jobs. We wanted to help," said Melissa. Hannah said she liked the Cocoa Puffs cereal that was in her bag. Melissa said they also chose tea, coffee, rice and beans to donate.
According to the County website, for those who cannot donate in person, monetary donations can be made by visiting the partner nonprofits' websites or by visiting Volunteer Fairfax's Stuff the Bus Donation Page. Nonprofits can turn donated dollars into more meals with a monetary donation by purchasing food in bulk or through special discounts. Monetary donations also allow pantries to purchase culturally appropriate foods, fresh fruit and vegetables, low-fat dairy products, and lean proteins, which can't be collected through food drives.