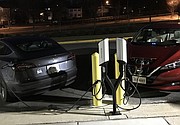 As more and more automakers transition to electric vehicles – and their popularity rises with consumers – the City of Fairfax is joining the charge. On Jan. 13, it celebrated the installation of four new electric-vehicle charging stations.
Residents may now boost their electric vehicle's battery while conducting business at City Hall, 10455 Armstrong St., or while parked beside Old Town Hall, 3999 University Drive. Each location features two chargers, plus adjacent parking spaces reserved for electric vehicles.
"This is a lead-by-example project," said Fairfax Mayor David Meyer. "By the end of this decade, electric vehicles aren't going to be a novelty – they'll be what people buy to replace conventional automobiles."
Because electric vehicles have fewer moving parts and no internal-combustion engines, both their fuel and maintenance costs are lower than traditional vehicles. Between 2017 and 2019, electric-vehicle registration in Virginia increased 157 percent. And in 2019, the number of public electric-vehicle charging stations in Virginia surged to 614 – up from 274 just five years ago.
Furthermore, Fairfax's charging stations are just the beginning of a massive infrastructure transition. They're part of a larger push by the City toward even more innovation, sustainability and technology in the future.
The City of Fairfax has already committed to improving local air quality by reducing Citywide, greenhouse-gas (GHG) emissions by 80 percent – from its 2005 baseline levels – by 2050. And Meyer is optimistic that Fairfax will exceed that goal and possibly accomplish it even earlier.
"I do believe, 20 years from now, when we convert to electric vehicles, we'll see a demonstrable increase in air-quality improvement, even though we'll have a population increase," said Meyer.
And installing the new charging stations is a step forward. Their $35,000 cost was funded by federal Congestion Mitigation and Air Quality money dedicated to transportation projects that improve air quality.
In 2018, transportation and mobile sources accounted for 40 percent of the City's GHG emissions. "The Washington Metropolitan area really doesn't have any heavy-industrial manufacturing," said Meyer. "The vast majority of the air-quality problems we have here come from automobiles.
"The new generation who'll inherit all this – our children and grandchildren – are going to be living in a completely different world," he continued. "They're going to look back on photographs and videos of people in gasoline-powered cars and it will seem like a distant memory."
– Matthew Kaiser contributed to this story.