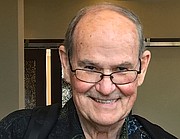 A former resident of the Seneca Hunt neighborhood in Great Falls, Ken Johnson, age 90, passed away at home at Ashby Ponds in Ashburn on Jan. 27, 2021 with Shonnie, his loving wife of 70 years, their daughter, Jill and her husband, Randy Banks, and caregiver, Joy Thompson at his side. Both Ken and Shonnie grew up in Chicago. They met on a blind date on Sept. 22, 1948 and married on Sept. 3, 1950.

Ken was born on Nov. 17, 1930 in Chicago, Ill., the second son of Bessie and William Johnson; and brother to Richard Johnson (deceased), Marilyn (Mickie) Modjeski and Margaret (Maggie) Olson. He is survived by his wife, their three children: Scott Johnson (Emily), Philip Johnson (Karen), and Jill Banks (Randal), seven grandchildren: Megan, Annie, Drew, Jamie, Sarah, Sam and Rachel; and six great-grandchildren: Maya, Maddox, Olivia, Nicky, Emma and Madelyn.

Ken was an industrious young man performing dozens of jobs on Chicago's South Side, including working for a florist. By the time he was in high school, he was making prom corsages and wedding flowers. His favorite two words were "Help Wanted."
Ken and Shonnie started their own business, Holiday Florist, in 1951. After leaving the flower business in 1958, Ken joined R.H. Donnelley, publisher of the Yellow Pages, as a sales representative. Later he would become President, serving seven years with the renamed Donnelley Directory, a major division of Dun & Bradstreet. While he was highly respected and recognized as one of the most influential figures in this industry, he was most proud of having celebrated successes of many colleagues…and making lifelong friends who have kept in close touch for many years. He retired in 1990.

In addition to his professional career, Ken helped found and was the first President of the Markham Improvement Association, whose mission was to improve the reputation of the then struggling Chicago suburb and the lives of its residents. He and close neighbors' best efforts to bring positive news to Markham included building a true masterpiece of a Christmas Train float, with a number of the builders' children dressed as Santas riding on the steps of the Caboose. And, it actually won first place in Chicago's Annual State Street Thanksgiving Day Parade! Later, he brought some of that float building expertise to the Seneca Hunt neighborhood entry to the Great Falls 4th of July parades in the 1990s.
One of their granddaughters, Annie, was diagnosed with a rare disease, Tuberous Sclerosis. Ken served for years on the Tuberous Sclerosis Alliance's Operating and Endowment Boards as well as mentored many other Board members.
In 2004, he wrote a book, "The Other One… In Other Times." It covered the first 30 years of his life and was meant to let his kids and grandkids know what it was like living during World War II…and in a neighborhood of immigrants where families were still recovering from the Depression. That book ended up being read and treasured by many others.

With their move to Virginia after Ken retired, he and Shonnie became active members of the United Christian Parish of Reston. And in 2015, they moved to Ashby Ponds in Ashburn as Independent Living residents.

Throughout his life, Ken was both a collector and facilitator of many great friendships whether they be professional colleagues, neighbors, golfing and poker buddies, church members or fellow nonprofit Board members. He was a favorite among his grandchildren…an entertainer when they were little, and an extraordinary role model from then on!
Ken's last several years were physically very challenging, and yet his attitude was always upbeat. Ask him how he was doing and the response was always "I'm great. How about you?" Over the last several weeks of his life, when in Hospice care, his message was always consistent … how much he loved his wife and family, how much he loved and appreciated his various doctors and caregivers, and how lucky he was to have lived the life he had!
He was a great role model for all. He encouraged others to be the very best they could be. He had a great sense of humor, and was friendly, kind, generous, sensitive and sentimental. It was typical for Ken to think of others before himself. As one lifelong friend stated: "First, of course, was Shonnie and then family, but then it was like he had a covenant of goodness with humankind." He will be greatly missed!
The family is planning a memorial service in September 2021, when travel is safe for all.
If you were to want to give a gift, "in honor of Ken Johnson" a special Memorial Fund has been established at www.tsalliance.org/KenJohnsonMemorial.
Please leave your thoughts, messages and memories at: https://everloved.com/life-of/kenneth-orville-johnson/.