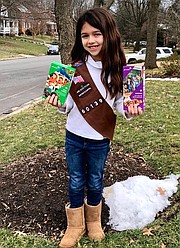 This is seven-year-old Erin Parks' first year selling Girl Scout cookies, but she has sold 394 boxes so far.

Erin says she started in December, when she sat down with her mother and created a video. "Hello, I'm Erin Parks and I'm selling Girl Scout cookies (enthusiastic smile). If YOU (arm points straight at camera) want to order them, I have thin mints, samoas, s'mores.....(hand and leg out— ta da)!
Erin's mother says they started in December, when she and Erin sat down together, and Erin created an email list of friends and family. Erin explains, "It was like about 23." The next step is to go online to her selling platform. Erin says everything is online this year because of COVID.
When her dad was on his Zoom business calls, Erin said she would sneak into his office and jump on his computer to ask the people in his meeting if she could tell them about her Girl Scout cookies.
"You can ship them or have them delivered 'so I can practice my people skills'" as Erin's website explains. Her mother, Michelle, thinks so many people ordered cookies shipped this year to family or college students or friends because they didn't know where to get them, so they used the mail."
Michelle says she is impressed with how the Girl Scouts have handled it with this year's constraints. "I love to see how they have come up with creative goals, what it is like to have a business." Erin's website announces she has achieved 150 percent of her goal and earned her personalized patch. "I learned how to count money, make change, and provide great customer service."
Erin explains "This is what I do. I get my mask, walk up to the door, put the cookies down and ring the doorbell." Michelle says they have arranged a delivery time ahead when people will be home.
"I step back and thank them for supporting me." Erin has been surprised at how everyone says they love Girl Scout cookies. She adds that thin mints and samoas seem to be the best sellers, although the tagalongs are her favorite, along with thin mints.
"This has been really fun."