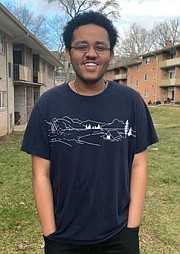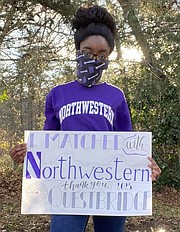 When T.C. Williams High School senior Natnael Asegdew was 6 years old, he moved to the United States from Ethiopia and his parents had one purpose in mind: to ensure their two children received a quality education.
Life in a new country was not without challenges for the family but their son thrived academically, first at John Adams Elementary School, then at Francis C. Hammond Middle School, and finally at T.C. Williams.
Now Natnael is a proud recipient of the prized QuestBridge Scholarship and this fall he is heading to Massachusetts Institute of Technology (MIT) on a full-ride scholarship, where he will major in Computer, Economics and Data Science.
QuestBridge is an extremely competitive college scholarship application process that helps outstanding low-income high school seniors gain admission and full four-year scholarships to the nation's most selective colleges.
T.C. Principal Peter Balas said, " I am so proud of our Titan QuestBridge Scholars. I know that these students are so deserving and that this scholarship will be life changing for our students."
Out of over 18,500 applicants, QuestBridge selected 6,885 finalists to be considered for the QuestBridge National College Match Scholarship. Ultimately,1,464 students were successful.
"I think about the sacrifices my parents made for me all the time," said the 17-year-old Asegdew. "Moving to a new country, learning a new language, working long hours, all with their children's future in mind."
"They were so happy when I got the news about the scholarship. It made them realize that coming to America was the right decision."
Natnael still recalls the kindness shown to him by ACPS teachers when he began school here in Alexandria.
He says he remains ever thankful for the teachers and counselors that supported him throughout his school career.
"Life would have been very different had we stayed in Ethiopia. I doubt that I would have reached the stage I am at now," he added.
Another highly accomplished Titan, Bridgette Adu-Wadier, also learned that she was selected from the thousands of students who applied nationwide.
Bridgette, who has been lauded with multiple accolades this academic year, will be attending Northwestern University where she will major in Journalism.
Despite her unquestionable talents, Bridgette didn't think she stood much of a chance of success for Questbridge given the high number of applicants. However, encouraged to pursue it by the Scholarship Fund of Alexandria, her teachers and counselors, she persevered.
The process involved writing multiple essays on various subjects including the challenges faced by low-income students. Applicants were also requested to rank their preferred colleges from a list of 12 that included Duke, Yale and the University of Pennsylvania.
In October, both students learned they were finalists, then on Dec. 1, they received the life-changing news that they had been successful.
"November 30th was a really climatic day," said Bridgette. "Everybody was giving me well wishes and hoping for the best. I tried not to stress out too much and just think about the fact that getting this far was an achievement in itself."
"The next day, I got word that the Questbridge decision had come out and I really started to get nervous."
After class she joined a Zoom with Stacy Morris, T.C. College and Career Center counselor. Together, the pair nervously opened the email that contained the decision.
"There was a big banner saying 'Congratulations!' and confetti was flying around the screen. For a second, I didn't know what to do. I was overjoyed and crying and just so shocked."
Then, the gifted writer and visual storyteller was also named by PBS as one of their 20 under 20 Up-and-Coming Storytellers of the Year.
Read more about our two QuestBridge Scholars.
20 under 20 Up-and-Coming Storytellers
2020 brought significant challenges and history-making events, from racial injustice and the coronavirus pandemic to a record-breaking hurricane season and an enormous uptick in mental health challenges.
These extraordinary times were met with exemplary young journalists and storytellers who covered these life-changing events through their work with PBS NewsHour Student Reporting Labs (SRL).
"Bridgette Adu-Wadier is a senior at T.C. Williams High School in Alexandria, Virginia. Her love for books and storytelling drew her to journalism, creating an opportunity to continue exploring the power of local politics and underrepresented voices. Next fall, she will pursue broadcast journalism and social science research at Northwestern University. She dreams of becoming an investigative journalist reporting on education. She is an editor for her school newspaper, host and co-founder of the local news discussion show at her school and a reporter for several other publications. Bridgette has also helped produce several stories for SRL, as well as interviewed the NewsHour's Judy Woodruff on preparing for presidential debates."