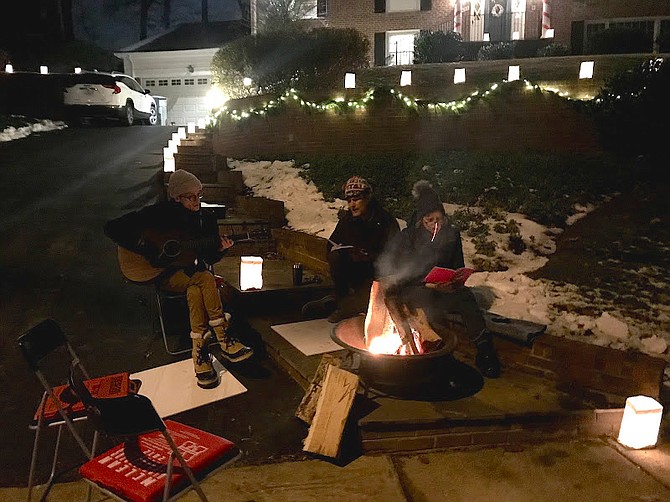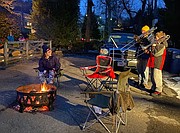 Saturday evening, Dec, 19, Chesterbrook Woods was set ablaze with lights, music and happiness.  The idea behind the illumination event, "Light Up Chesterbrook Woods," was to join together to say Happy Diwali, Happy Hanukkah, Merry Christmas, Happy Kwanzaa, Welcome Winter, and GOODBYE 2020!  That evening, more than 260 households decorated their yards, walkways, and driveways with 8,000 luminarias (votive candles in paper bags).  With the backdrop of recently fallen snow and traditional holiday decorations, Chesterbrook Woods was transformed into a beautiful winter wonderland.  Whether neighbors chose to enjoy the lights through the comfort of a car ride or as a household walking around, fun was had by people of every age.
The event was brought to life by four neighbors, Amanda Majkowski, Kara Stoll, Lori Boerner and Carla Post. Carla pitched the concept to her friends and they enthusiastically agreed that it was a great idea. Carla managed ordering, payment processing and charitable donations for the team. She reported, "It was clear our annual caroling event, like so many traditional holiday mainstays, would not be possible, so we created "Light Up Chesterbrook Woods" – both to honor all that has been lost and to celebrate the joy of the season and community.  We were blown away by the enthusiasm and participation which raised $6,000 split between local food pantry Share of McLean, and Get Us PPE, a non-profit which provides no-cost PPE to frontline workers and under-resourced communities, and $200 for the McLean Fire Department.
Behind the scenes, it took a village to bring "Light Up Chesterbrook Woods" to life.  Over the course of a few weeks and many, many hours of work, the Luminaria Team advertised their idea on the neighborhood listserv, negotiated with vendors, took and placed orders, and assembled and delivered the kits to neighbors. The event was so popular it spilled over into nearby neighborhoods.  Amanda Majkowski, who was in charge of organizing and delivering the luminaria to 240+ households, put out a plea to neighbors for large paper bags for transporting the kits and was rewarded with enough donated bags within a matter of 48 hours. 
There was also music to enhance the outdoor experience!  Kara Stoll, who helped promote the event to the neighborhood, also helped manage luminaria kit assembly and was in charge of entertainment.  Five households publicized ahead of time that they would provide outdoor music, including: music broadcast on a big screen, caroling, a trombone concert and beautiful music performed by professional musicians, Lynn Veronneau and Ken Avis of Veronneau.  One household showed the Christmas Classic, "Home Alone," on an outdoor screen. 
Lori Boerner, who is well known in Chesterbrook Woods for her community spirit, organized the order taking, photo taking and promotion of the event. She created one of her trademark Google maps so that neighbors could find participating houses on the route.  She also created a Google photo album so neighbors could upload photos to document the beauty and wonder of the night.  
Afterwards, many Chesterbrook Woods residents expressed their thanks to Carla, Lori, Amanda and Kara for creating such a heartwarming event.  Patty Freeman perfectly captured the neighborhood sentiment when she wrote, "Thank you to the organizers, and to all those that helped put it together and deliver the bags. It was such a beautiful evening all around. The weather was perfect for strolling thru the 'Hood to see all the lights, listen to wonderful music, and view the scenes on the movie screens. We truly have a special neighborhood."  
There have been a lot of requests by neighbors to make this an annual event!