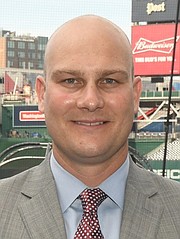 Mark Scialabba, Assistant General Manager, Player Development for the Washington Nationals, will be the featured speaker during a webinar presentation for the Jan. 20 Alexandria Sportsman's Club meeting.
Scialabba, entering his 15th season with Washington, was promoted to his current role in November of 2019 after serving the previous six years as Washington's Director of Player Development. In this new position, Scialabba's responsibilities include the Major League operation assisting Mike Rizzo, the front office and Major League staff.
He continues to work in conjunction with Doug Harris overseeing all aspects of the player development system, including player plans, player personnel decisions, analytics, contract negotiations, budgets, Dominican Academy operations and medical/training programs.
After graduating from Williams College and earning a masters degree in sports management from the University of Massachusetts at Amherst, Scialabba joined the Nationals in 2006 as an intern and worked his way up. He led the development of the team that clinched the World Series in 2019. Prior to that, the Nationals made the playoffs four times between 2012 and 2017 but lost in the first round every year.
The Alexandria Sportsman's Club webinar meeting will be held Jan. 20 at 7 p.m. Participation in the meeting is free and open to the public but pre-registration is required. For more information, visit https://alexandriavasports.org/.