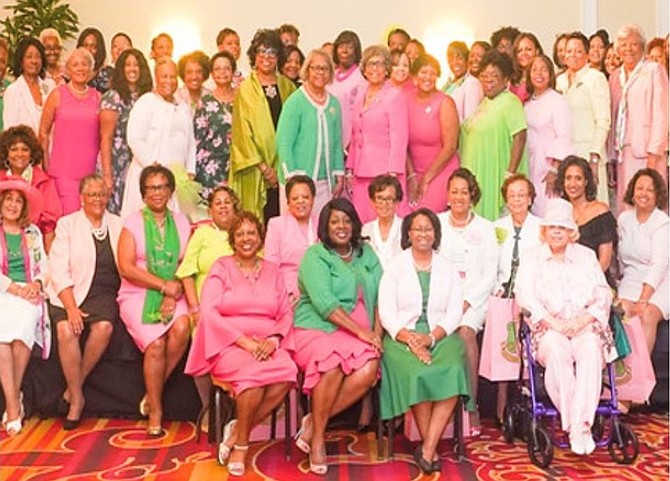 "As someone who participated in the Civil Rights movement of the 60s, I get emotional just thinking about this huge accomplishment and how far we as a people have come. The idea that a woman of color, who attended an HBCU, and who was raised by a single parent is now our Vice President is mind-boggling." — Martha Coleman, Arlington/Alexandria chapter Alpha Kappa Alpha
"I was overcome with a flood of emotions: pride, happiness, disbelief... and a tremendous feeling of gratitude that God allowed me to live long enough to witness this historic moment: the first woman, the first Black, the first Asian American, the first HBCU graduate and the first AKA to become Vice President of the United States of America, a heartbeat away from the most powerful office in the world." — Lula McLain Hicks, member of Arlington/Alexandria chapter, Alpha Kappa Alpha sorority since 1968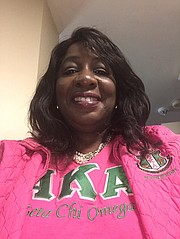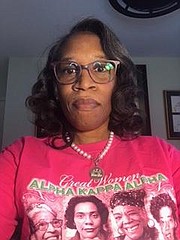 Wearing their sorority's signature strand of pearls and clothing in shades of pink and green, Alpha Kappa Alpha (AKA) sorority members Martha Coleman and Shirley Dickerson Taylor were filled with awe and jubilation as they watched their sorority sister and fellow Historically Black College and University (HBCU) alum Kamala Harris, sworn in as Vice President of the United States.
Both women are decades-long members of the sorority and are now part of the Zeta Chi Omega Chapter, which is made up of women from Arlington, Alexandria and Fairfax counties. Local members supported Harris' election and say their emotions include pride and optimism, for older members as well as younger.
"As someone who participated in the Civil Rights movement of the 60s, I get emotional just thinking about this huge accomplishment and how far we as a people have come," said Coleman, who has been a member for 53 years. "The idea that a woman of color, who attended an HBCU, and who was raised by a single parent is now our Vice President is mind-boggling."
"I was overcome with joy and happiness to witness this historical day," added Taylor, who has been a member for 63 years. "The tears flowed as I watched Soror Kamala take the oath and become the Vice President of the United States."
"I witnessed something that I never thought I would witness in my lifetime, said 68-year old Linder Gibson, who lives in Montgomery County. "I was overwhelmed. "This lets me know that my little granddaughter can grow up and become anything she wants to be, even President."
Those who joined AKA at Howard University felt a special connection.
"She has been an inspiration for many, said Linda Elaine Newman, who has been an active member for 43 years. "I was doubly proud because I am also a graduate of Howard University. Her positive accomplishments have given good recognition to HBCUs and our beloved sisterhood."
"From the standpoint of being a black and Asian woman it was a monumental moment," added Patricia Wallace, who has been a member for 55 years. It was astounding since, in both these cultures, women were deemed to be on the bottom rung, thought of as property and second-class citizens. Now the glass ceiling has broken."
The Arlington/Alexandria chapter has been in existence for more than 60 years. "Tears of joy flowed down my face as I watched the first woman, the first woman of color and my sorority sister take the oath of office for the Vice President of the United States of America," said Robin McCoy, who is a 40-year member and serves as the chapter's president.
Many felt a sense of optimism about the possibilities that would be conveyed to the young women and girls in their families.
"The swearing in of my soror Kamala Harris filled me with sadness, joy and delight," said Margarette Peterson, who was initiated in 1959. "Joy came to my heart to know that my granddaughter would continue to grow up in a better world. … I was filled with sadness because it has taken so long for a black woman with outstanding qualifications to be recognized. I dried my tears and took a picture ... proudly in my Golden Soror tee shirt."

"I thought of my 10-year-old granddaughter's future in a country that has elected the first woman as Vice President, who happens to be Black, who happens to have been shaped by our founders at Howard University, and who happens to have been the recipient of the unflinching support from women all over America," said Tia Johnson. "My granddaughter's future was looking brighter. Vice President Harris' election provides the answer that all things are possible."

The Arlington/Alexandria chapter includes older members that range in age from 60 to 90. Many thanked a higher power for the victory.
"I was overcome with a flood of emotions and … a tremendous feeling of gratitude that God allowed me to live long enough to witness this historic moment: the first woman, the first Black, the first Asian American, the first HBCU graduate and the first AKA to become Vice President of the United States of America, a heartbeat away from the most powerful office in the world," said Lula McLain Hicks, who was initiated in 1968. "In that moment, Vice President Harris represented every member of Alpha Kappa Alpha Sorority, Incorporated and our 113 years of service to humankind."
Wanda Smith, who joined the sorority 42 years ago, said the swearing-in underscored the lyrics of the official hymn of AKA: "'By merit and culture we strive and we do things that are worthwhile. And with a smile we help each other for we know there's no other like our sisterhood,'" she said. "Yes, I cried and thanked God."
For Aretha Marable Cunningham, who was initiated in 1973, the ceremony offered optimism. "I feel extreme joy, relief, excitement, and hope for our country, the United States of America."