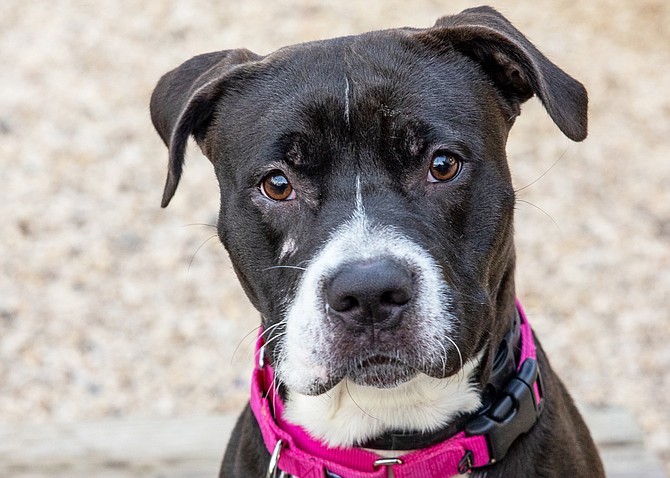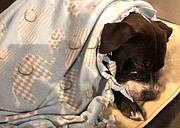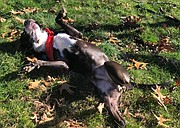 It was the last day of 2020 and he was hungry. He was tired of roaming, foraging for scraps and being too afraid to fall asleep. The scratches on his nose and paws suggested that life hadn't been without conflict. He knew he needed help. But didn't know where to turn.
When the local newspaper delivery driver hopped out of his vehicle, leaving the door open as he quickly ran up to a house to deliver the paper, this smart pup knew exactly what to do. With a quick look inside to see if it was safe and one over his shoulder, he jumped right in.
The driver was pretty surprised to discover he had picked up a passenger, when he returned to find "Brisket" curled up in the seat next to him.
I wasn't there, of course, but that's how I imagine the scene unfolding.
The sweet-faced pup had no collar, so the driver didn't have a way to locate his family, if he had one. Falls Church, where this all happened, is one of the coverage areas for the Animal Welfare League of Arlington (AWLA) and so off the driver went to see if the folks at AWLA could help reconnect the poor guy with his family.
But without a collar or microchip, the rescue didn't have a lot of options. They posted a picture and description on the AWLA website, hoping that if he had a family, they would find him there. The volunteers fell in love with him and imagined a joyful reunion with his family. But no call came.
Brisket, as he is now called, was fortunate to be placed with experienced foster mom, Lorena Egusquiza. He is truly sweet and a very happy guy, according to Egusquiza. At around 1 year old, he is always up for playtime, but also loves to snuggle. He is housebroken and knows a bunch of commands including sit, paw, down, potty and inside (for when it's time to come in from the yard).
By all accounts, it's going to be one lucky person or family who adds Brisket to their household. If you think it should be you, please send an email to awla.foster.lorena@gmail.com to arrange an initial virtual meet & greet. She will reply to you within 24-48 hours. You can also read more about Brisket at AWLA.org.
ArPets is a weekly feature for highlighting the well-loved pets of Arlington as well as animals who are available for adoption. If you or your dog, cat, iguana, bunny, rat or any other pet, has an interesting pet story to tell, send email to: joan@joanbradyphotography.com.
Joan is an award-winning Connection Newspapers columnist and local photographer specializing in pets, children and families and contemporary business portraits.