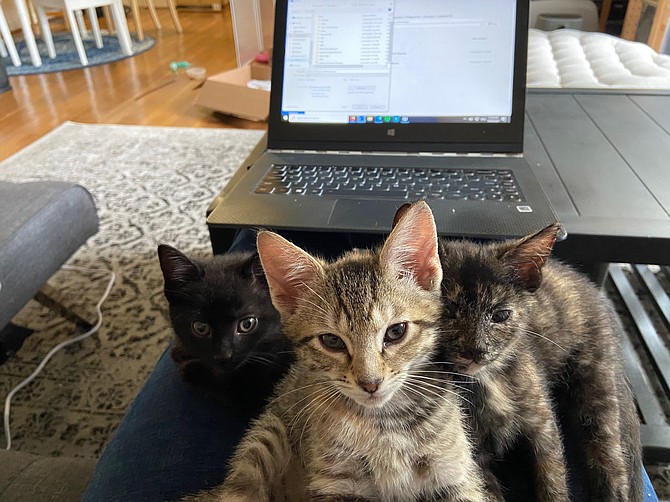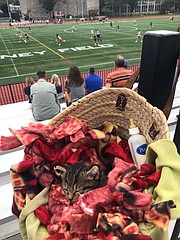 Picture this: You're sitting comfortably on the couch, working on your laptop computer from home, as five tiny kittens purr and cuddle on your lap, vying for your attention.
That's one way to push through a pandemic.
For roommates Kathryn Hockman and Aya Takai, the litter of five kittens who came to stay for a few weeks at their apartment last fall was just what they needed. "Neither of us had fostered before, but we realized that we suddenly had a lot of time and we love animals, so fostering would be a great way to help them find homes," said Hockman.
Each of the month-old kittens, who had been found orphaned and brought to the Animal Welfare League of Alexandria (AWLA), had a distinct fur color and character, led by "Freddy," who was the big boy of the litter, both in size and personality. They renamed the kitten called Chucky as Chunky because she ate so much and often was covered with food particles.
Hockman and Takai set up a playpen for the energetic kittens, from which they quickly escaped, so the pair used plastic panels provided by the AWLA to help isolate them in a specific area. The two women became proficient at swaddling kittens for special baths in the sink, especially to combat fleas. "The AWLA was so responsive," Takai said. "We always felt that if we had a question, there would be someone to respond and help us out."
Hockman and Takai are two of the hundreds of families who provide foster care for the AWLA. The program is designed to provide temporary at-home care and enrichment, especially for animals in need of regular medications or health management, animals too young for adoption, and those who need extra socialization. Animals overwhelmed by the bustle of the adoption floor also benefit from a stay in a home, where they can learn to coexist with people and perhaps other pets — and be observed to provide valuable information for the shelter's adoption staff.
A robust program before the pandemic, it has swelled in the past year. In March, as the shelter closed to visitors and many AWLA staff members switched to working from home, the shelter turned to fosters to house most of the animals. One challenge, said foster care coordinator Kimberly Weilnau, was finding fosters willing to take animals for extended periods of time and providing abundant supplies to them to minimize interaction with shelter staff for the safety of all involved.
By the end of March, the majority of the shelter's animals were being cared for in foster homes, said foster care coordinator Elena Carver, including guinea pigs, birds and even a turtle. But as the spring went on, emails and calls poured in from people in need of a quarantine buddy and hoping to help out. "There were a lot of requests for kittens and small dogs," Carver recalled. "For a while we didn't have enough animals to satisfy the demand."
The foster staff split its time between working at the shelter and from home, with no interruption in support for fosters and their animals. They even made home deliveries of supplies to foster "parents" who could not venture from their houses. The AWLA provides all the basic food and other supplies for animals in foster care.
The pandemic also prompted the staff to develop an online system for orientation of new foster volunteers, to continue to expand the team of foster caregivers and meet the requests of the many interested families. Instead of coming to the shelter, new fosters now fill out a short questionnaire, then read an informative presentation about what's involved in fostering, followed by a short quiz. "We connect with at least 30 new fosters a month this way, whereas the typical in-person orientation would yield only about half of that number," Weilnau said.
Through it all, the AWLA's regular cadre of fosters continued to work its magic. Patty Vinall has fostered nearly 90 animals since 2016, including cats, kittens, dogs and puppies, in her Annandale home. "I love both puppies and kittens," she said, "though kittens are a lot easier — they usually go right to the litter box." Over the years Vinall has taken on several baby animals in need of round-the-clock bottle feeding and care, including one tiny brown tabby kitten she wrapped in a blanket, placed in a basket and took to her daughter's lacrosse game so she could keep a watchful eye on him.
Vinall often finds her foster kittens curled up asleep in the storage drawers under her bed. Her two dogs (one a former AWLA foster) and pet cat (also a former AWLA foster) take the stream of visitors in stride, her dog Millie often engaging the kittens in play. "When a new one arrives, the pets just seem to say, 'Ok, we've got someone else coming in,'" Vinall said.
Vinall believes the only "lows" in fostering come when it's time to say good-bye to the animals she has come to care about as they ultimately find their new homes. "But there are a lot of highs," she said. "You really bond with them and feel like you're doing something worthwhile."
The Animal Welfare League of Alexandria is a local 501(c)(3) organization that operates the Vola Lawson Animal Shelter, Alexandria's only open-access animal shelter. In response to the global pandemic, the AWLA has established a virtual adoption process and is operating a Pet Pantry that provides pet food and supplies to community members in need. The AWLA also offers assistance to Alexandrians with questions about wildlife and animals in the community. More information can be found at AlexandriaAnimals.org.