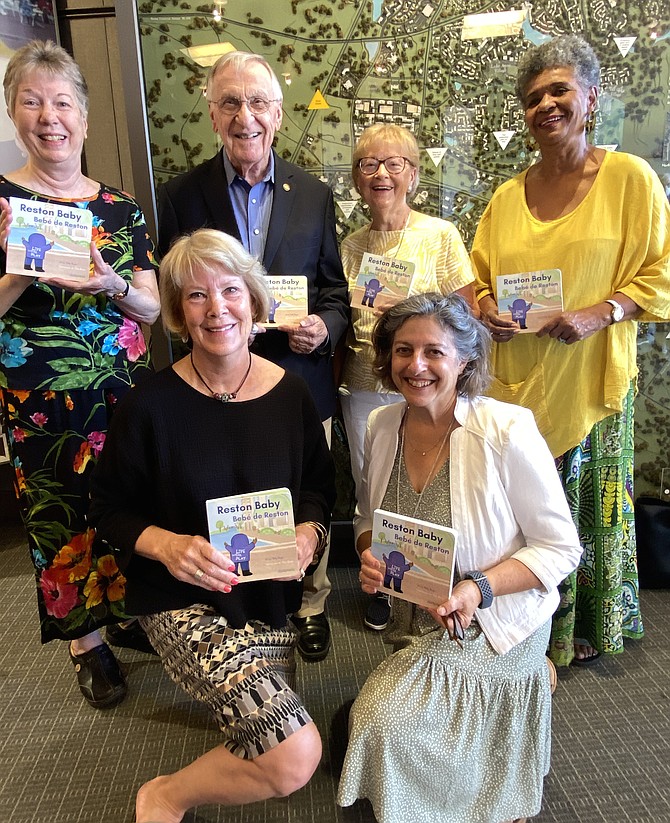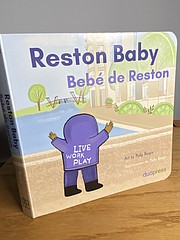 Reston Historic Trust celebrated the release of its children's board book, "Reston Baby" (2021), art by Molly Bergin, published by duopress, by throwing a launch party on Tuesday, June 15, at its museum located at 1639 Washington Plaza. The 22-page bilingual children's book, written in English and Spanish, values diversity and encourages parents to read to their children from birth and keep reading throughout childhood. Project founder Dr. Elizabeth English is a former principal of Sunrise Valley Elementary School in Reston and conceived the idea for the book on April 10, 2020.
"I'm going to tell you a little secret about myself," English said, addressing the crowd at the book launch. "I've never had an original idea in my entire life. But I recognize really great ideas." English spoke of hearing the head librarian at Roanoke City talk about a book they created and distributed for free to all the newborns at a local hospital [Carilion Clinic's Roanoke Memorial Hospital]. She said if Roanoke could do it, so could Reston.
According to English, she is a collaborator, "really good at putting together teams of people who can get things done." She described the newly found group, Reston Reads.
ENGLISH tapped Pat Fegi, retired language arts coordinator, Carol Bradley, former Principal of Terraset Elementary, Delegate Ken Plum "who knows everybody and everything," and Kathy Leatherwood, a multi-talented ESL teacher, also wrote the song "Having Fun in Reston" to accompany the book. In addition, English brought on board Kim Siegel, and Roberta Gosling, who she knew was" "a mover and shaker… but... didn't know the extent of it."

"We met on April 10 [ 2020] for the very first time, virtually of course... [So, this] is an incredible 360 degree-cycle moment for me, to watch something come together that impacts the community that I love so dearly," English said.
Virginia Delegate Ken Plum (D-36) said that one thing he loved about the community was "how we come together...It's a hallmark of what we're about, and it's appropriate that this book came about that way too."
According to Irene Williford, Chief Nursing Officer at Reston Hospital, who attended the book launch, every baby born at Reston Hospital Center will receive a "Reston Baby" board book and pamphlet on reading as part of their Newborn Parents Packet before leaving the hospital. Williford said that Reston Hospital Center has "about 200 deliveries a month." "We are proud to be a part of the project...and… we want to thank you for allowing us to be part of it," Williford said.
Artist Molly Bergin used a limited palette of earth tone and pastel colors for "Reston Baby." She textured backgrounds to bring forward her drawings of keyline, block-colored landmarks, babies, children, and adults paired to the playful text. Showcasing a snapshot of Reston, Bergin drew fun events Reston children love, "festivals, parades, concerts, and celebrations," and what they love to do, "bike, run, fish, play, and skate." In addition, the sturdy little board book, "nontoxic" printed, described a "caring community that loves children ... [where they] "learn to be kind and to share."
Roberta Gosling, lead fundraiser for the project explained the book's distribution in greater detail. She said when staff at Reston Hospital Center teach new parents how to wash and diaper their new baby; they will have "Reston Baby" right there. "This is one of the first things that all of the babies in Reston are going to see. So, it's going to be a really big deal."
Gosling went on to say that "nothing happens in Reston, without everybody in Reston."
SPONSOR ORGANIZATIONS that funded the $15,000 printing costs for the first 4000 copies of "Reston Baby" are Reston Community Center, Reston Town Center Association, Reston Association, Reston Museum, Friends of Reston, Friends of the Reston Regional Library, and Reston Hospital Center HCA Virginia Health System. English said, "When we get down to a small quantity, we'll be knocking on doors again."
"Reston Baby" (2021), published by duopress, is available for sale online and at the Reston Historic Trust & Museum for $10. Funds support future printings.