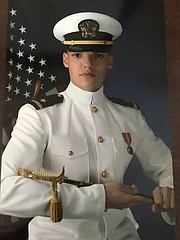 James Kunder of Alexandria was recently (June 4th) commissioned as an ensign in the United States Navy upon completion of Officer Candidate School in Newport, Rhode Island. He was subsequently assigned to a U.S. Navy guided missile destroyer, the USS Momsen, based in Everett, Washington.
Kunder is a 2015 graduate of St. Stephen's and St. Agnes school, where he was elected Class President his senior year and was a member of the wrestling team, winning the Alexandria city championship in his weight class three successive years. He is a 2019 graduate of the College of William and Mary, where he majored in Public Policy and served as a member of the university's Honor Council.
Having completed his Navy Officer Candidate School studies in the top five percent of his class, he was designated a Distinguished Naval Graduate upon commissioning as a Surface Warfare Officer. He is now based at Navy Station Everett, Washington.