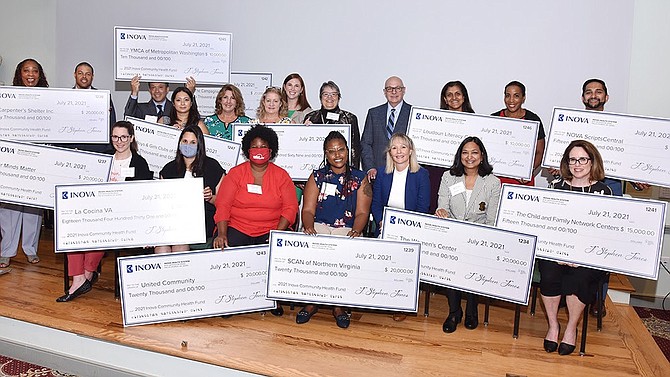 Inova Health System awarded $240,000 in Community Health Fund grants to 14 local nonprofit organizations this month, including $20,000 to United
2021 Community Health Fund Awardees:
Boys & Girls Clubs of Greater Washington
The Campagna Center
Capital Youth Empowerment Program
Carpenter's Shelter Inc.
The Child and Family Network Centers
La Cocina VA
Loudoun Literacy Council
NOVA ScriptsCentral
Nueva Vida, Inc.
Our Minds Matter
SCAN of Northern Virginia
United Community
YMCA of Metropolitan Washington
The Women's Center
Community in Mount Vernon. The Community Health Fund allows Inova to invest in the community through partnerships that address population health needs and promote equity. These partnerships reinforce Inova's ability to provide world-class healthcare by supporting positive programs and opportunities that make a difference in the quality of life, health, and welfare of the communities Inova serves, they said.
"We are very thankful for the life-changing work of our nonprofit partners in taking care of our community," said J. Stephen Jones, MD, President and CEO of Inova Health System.
The Inova Community Fund Grant will support the United Community initiative to expand its current healthy food markets at four mobile sites in under-resourced communities, serving 600 families per week. United Community will continue to advance partnerships with healthy food suppliers at low or no cost.
One specific area United Community is targeting for assistance is the Janna Lee Neighborhood off Richmond Highway in Mount Vernon.
Each year, Inova issues requests for applications to local nonprofit organizations to apply for Community Health Fund grants. In 2021, Inova doubled its funding to a total of $240,000 to address increased needs of residents due to the COVID-I9 pandemic.