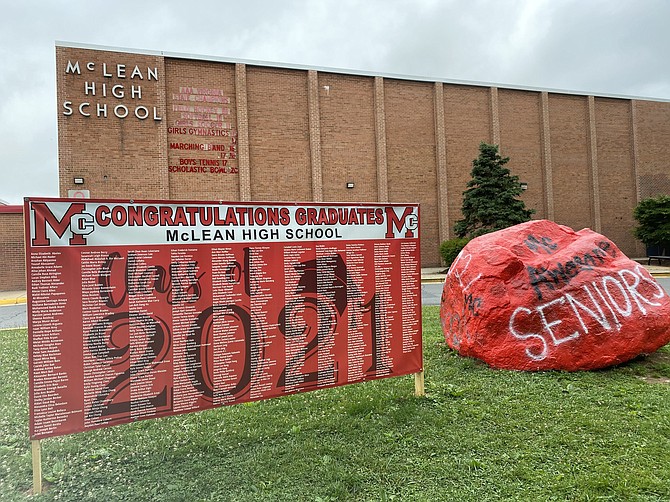 Members of McLean High School's Senior Class of 2021 who processioned in their red caps and red gowns across the stage at Jiffy Lube Live in Bristow, Va, on June 1, left with more than their diplomas and academic learning.
"We leave with lessons that will last a lifetime," said Eliza Bell, who presented the Student Address. The "crazy COVID experience" taught the seniors the value of personal relationships in the long months of an "incredibly lonely time," according to Bell. She urged classmates not to take relationships lightly. "Be more kind to others...We never know the struggles others face, what battles they're fighting."
Commencement speaker DeMaurice Smith, Executive Director of the National Football League (NFL) Players Association told the graduation candidates that their diplomas held many meanings, including not to take things "too seriously." Their diplomas should remind the graduates they are allowed to live in the moment instead of always thinking about the next step. "To the graduating class of McLean High School, Godspeed," he said.
McLean High School Principal Dr. Ellen Reilly presented the 2021 Faculty Awards to the two students who best possessed the qualities that captured a McLean Highlander. "Sanjna Kaul," said Reilly, "…[is] unrelenting in her hard world with a keen sense of social justice." "Eliana Durkee…[is] beyond extraordinary, unstoppable, and exceptional."
Paul Stanberry, Director of Student Services at McLean High School presented the graduates.
View a live stream of the McLean High School Graduation by Memories Videography at https://livestream.com/accounts/28386681/events/9663146.