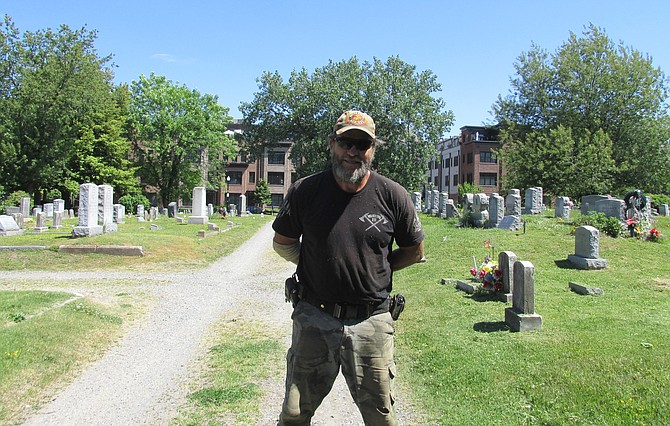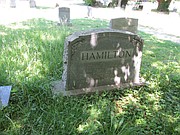 A town called War in McDowell County, West Virginia is surrounded by hilly mountains, and it also sits in the valley of the mountains with a population of less than 1,000 people. The main occupation of the people in this small town is mining.
The Click family no longer wanted to work in the mines. The father, Elige Click left West Virginia and migrated to Alexandria. His son, James A. Click Sr, later joined him. After a number of odd jobs, father and son found jobs working in the cemeteries. They worked at Ivy Hill and Bethel cemeteries. James A. Click Sr., worked at Ivy Hill Cemetery while his father, Elige Click worked at Bethel Cemetery. During Elige's time at Bethel, segregation at the Cemetery was no longer practiced. The Mays were the owners of Bethel. Under their ownership, the Bethel Cemetery had two colored sections of the cemetery designated as L and M.

When Elige died in 1980, James A. Click, Sr., took over the maintenance of Bethel Cemetery. A rare opportunity came for James Sr., in 1985. The Mays offered the Bethel Cemetery to James. He only had to pay for the legal fees and the transfer of the property.
The Senior James made changes to the care of the cemetery. He started a perpetual care trust fund for Bethel. Under the perpetual care program, his customers would pay a one time fee for the maintenance of their loved ones. Unfortunately, many older graves in sections L and M had no perpetual care plans. James then began contributing towards the perpetual care for those graves that did not have maintenance plans.
After grooming his son, James Jr., for the cemetery business, James Sr., retired to Henderson, Nevada.
On any day of the week you visit Bethel Cemetery in Alexandria, you would find James Click Jr., working there. His family has spent 60 years in the business.
Whenever one talks to James about the Cemetery, one would immediately capture his feeling of pride and dedication he has for his business. James has many fond memories as a child coming to the Cemetery with his father. He said, "When I was a child, many people would come to the Cemetery to visit their loved ones. Many African Americans would come after church with their blankets and food and set at the headstones of their loved ones. During the holidays, you would find Whites, Blacks and Spanish coming to spend time with their deceased families. Today, you do not see many younger African Americans coming to the Cemetery like their older generations did when I was young. Times have changed."
James is continuing his grandfather's legacy. He is the third generation working in the Cemetery business. James also said, "I will pass this Cemetery over to my grandchildren." James will be sixty soon and he plans on working until the very end.
After visiting my mother at Bethel Cemetery, I walked the grounds reading the names of each headstone in sections L and M. I recognized the names of people who have contributed to the history of Alexandria. They were ministers, barbers, teachers, politicians, property owners, activists and government workers. Many of their younger descendants are unaware that they have relatives buried at Bethel and that their graves have no perpetual care plans.
If you want to arrange for a perpetual care plan for your loved ones at Bethel Cemetery, please contact James A. Click at 703-548-8281.
Char McCargo Bah is a published author, freelance writer, independent historian, genealogist and a Living Legend of Alexandria. She maintains two blogs, https://theotheralexandria.com/ and https://findingthingsforu.com/.