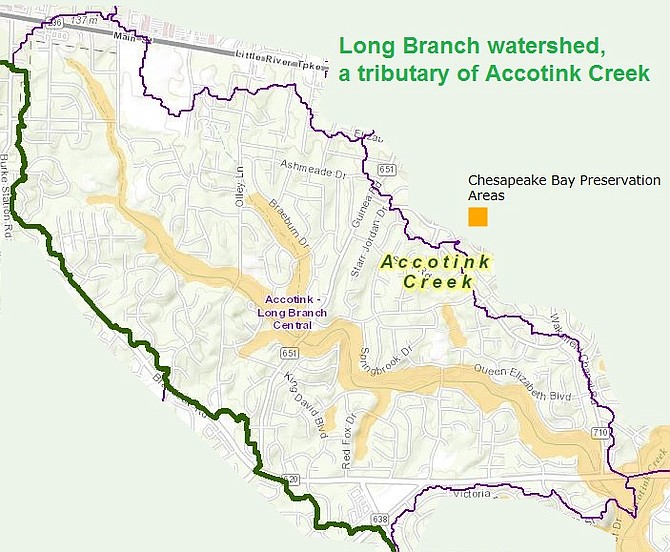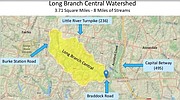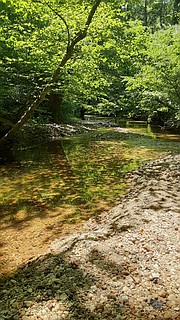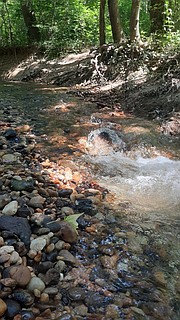 The Long Branch Watershed is eight miles of streams over 3.71 miles in a heavily suburbanized area in mid Fairfax County. It was declared an "impaired water" by the Virginia Department of Environmental Quality, due to erosion and sediment input, so Fairfax County is launching the "Long Branch Central Watershed Management Area Project," to reduce the waste load on the stream, improve water quality within the Long Branch Central watershed and improve habitat and environmental health of this county stream.
The stream goes through the heart of the Braddock District and Supervisor James Walkinshaw was part of the process to get the county to look at it. "Ultimately, this project will decrease the sediment load in Accotink Creek, help protect Lake Accotink and improve water quality by stabilizing destabilized stream banks, enhancing habitat for aquatic life, engaging the floodplain, and improving the vegetation in this part of the watershed," Walkinshaw said.
Sediments are clogging the stream up in some areas, and bank erosion is taking place in others, causing trees to topple and the natural process is suffering. Officials are hoping to reduce the sediment eroding from the Long Branch Central Watershed by 2,433 tons per year and improve water quality and habitat. Officials are looking into methods for accomplishing this and are considering doing a lot of planting in different areas and working to reconnect the stream with its floodplain where that is appropriate and to stabilize and repair degraded outfalls where there is a lot of erosion. "One of the most critical aspects is that as we work to develop design solutions for given areas, we will share those proposed methods with the community for their feedback and input to make sure what we do meets the communities' goals and needs," said Charles Smith, chief of the Watershed Division of the Fairfax County Department of Public Works and Environmental Services.
In February, a presentation was shown to the Friends of Accotink Creek on the Long Branch project, and after the presentation, a group walked along Long Branch to see what was happening. Long Branch empties into Accotink Creek near Wakefield Chapel and Braddock Road. The Friends of Accotink Creek were identified as a stakeholder group, along with Earth Sangha, Stone Haven Civic Association, Canterbury Woods Civic Association, Red Fox Civic Association and Rutherford Civic Association.
The DEQ is working with Fairfax County to assess the situation this summer, and possibly begin working out a plan this fall and winter. The work is scheduled to start in the summer 2023 and be completed in 2028.