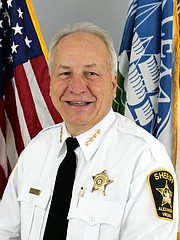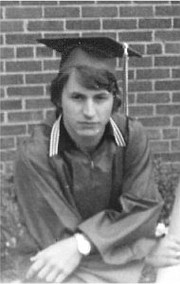 Sheriff Dana Lawhorne, a life-long Alexandrian with 43 years in law enforcement, has announced his retirement effective Dec. 31, when his current term expires.
A 1976 graduate of T.C. Williams High School, Lawhorne, 63, served 27 years with the Alexandria Police Department as an officer and detective before becoming Sheriff in 2006. He is in his fourth term as Sheriff.
"Following 43 years of public service, I have decided to retire at the end of this year when my current term expires," Lawhorne said in a statement. "This is a difficult decision because it is hard to leave a job that you love and are still passionate about. I have known since I was 14 years old that this is what I wanted to do, and there was not one day where I wasn't grateful to have this opportunity to serve my city."
Under Lawhorne's leadership, the Alexandria Sheriff's Office expanded educational opportunities for inmates, enhanced public safety initiatives like Project Lifesaver, Away from Home Checks and Drug Take Backs, increased law enforcement training and professional development opportunities for staff, expanded community outreach efforts like the Civic Association Liaison Program and participation in events like First Thursdays, supported Meals on Wheels delivery and assisted with food distribution efforts and achieved continued Triple Crown accreditation from the National Sheriff's Association.
"Being your Sheriff the last 16 years has been the highlight of my professional career," Lawhorne added. "I am proud of what our dedicated staff has accomplished, despite the many difficult challenges they face every day. We built positive and productive relationships with our local, state and federal partners and we brought increased visibility to the Alexandria Sheriff's Office."
Over the years, the Alexandria detention center has housed many high-profile inmates, such as New York Times reporter Judith Miller, CIA agent Aldrich Ames, 9-11 "20th hijacker" Zacarias Moussaoui, D.C. Beltway Snipers John Allen Muhammad and John Lee Malvo, Paul Manafort, Chelsea Manning and "QAnon Shaman" Jacob Chansley.
Lawhorne earned his Associates degree in Administration of Justice from Northern Virginia Community College and also completed the Executive Leadership Institute offered by the FBI-Law Enforcement Executive Development Association. His civic service includes the City's Community Criminal Justice Board, Northern Virginia Police Chiefs and Sheriffs Committee, and the board of Ivy Hill Cemetery.
A lifelong resident of Del Ray, Lawhorne's statement noted his appreciation for the dedication and support of the ASO public safety professionals, in particular Undersheriff Tim Gleeson, who began his law enforcement career with Lawhorne at the Alexandria Police Department.
But it was his wife and daughters that Lawhorne said have sustained him throughout his career.
"My wife Linda has been the strength behind my success," Lawhorne said. "The public may not realize what family members must sacrifice so that others may serve. For their entire lives, our three daughters, Megan, Christine, and Mallory, have experienced the difficulties and the pride of having a father committed to serving and protecting others."
Lawhorne said that he is looking forward to spending more time with his family, including grandchildren Ryan and Harper.
"Linda and I will continue to be active members of our beloved hometown," Lawhorne added. "I am fortunate to have accomplished everything I wanted to and while I remain committed to being an active member of this community, I believe the time is right to announce my retirement plans."