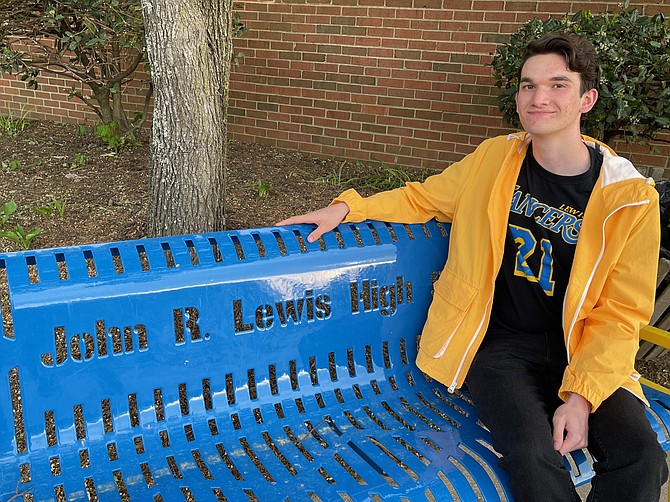 Charles Childers, a senior, took a creative writing class this year and was inspired to create a tribute for John R. Lewis by inauguration poet, Amanda Gorman. His dramatic reading of his "And Now We Honor Him" led the special tributes offered by his fellow students. Childers also wrote "When we Aspire," included in the ceremony's program. Childers will be attending James Madison University this fall to study Earth Science. 
And Now We Honor Him.
By Charles Childers
And now we honor him,
Because his arms were in chains,
He marched in the rain,
He suffered through the pain,
To proclaim, we choose not to abstain
our dictations,
Yet to rid the strains that stain our nation.
And now we honor him
Because his sacrifice,
End nights of peaceful fights
For equal rights, he set his sights,
To be greater, to reach new heights,
A mediator of black, brown, and white
And now we honor him.
Because he surpassed expectation
And in the House, he led this nation,
With assertions that our expectation
Should be acclimation and cooperation,
Not a culmination of defamation
Which stems from times of segregation.
And now we honor him
Because even after passing on,
With every day and every dawn,
We continue to fight to right whats
wrong,
And remember the nation we walk upon,
Was shaped by people all long gone.
And thereupon, when it sinks to rubble,
Hope prevails, and prosperity's double,
So have hope and remember, to get in
good trouble.