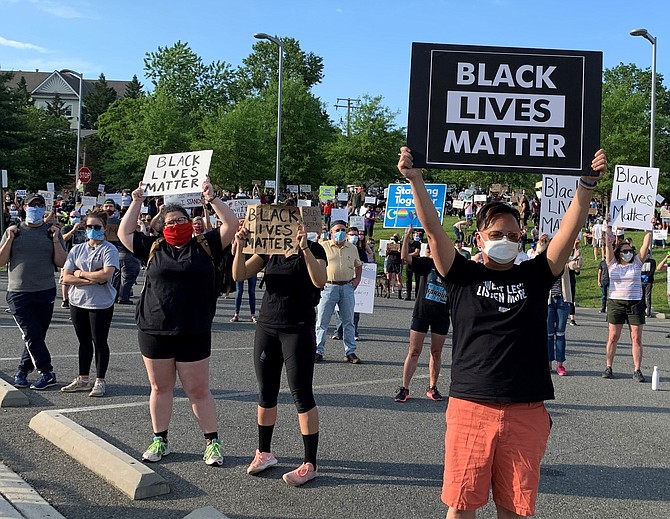 At its public hearing on April 17, the Alexandria City Council voted unanimously to adopt an ordinance establishing a Community Policing Review Board, which will go into effect July 1.
City Councilman Mo Seifeldein first introduced the measure last summer following the death of George Floyd in Minneapolis and subsequent protests across the nation, including in Alexandria.
In a statement, Seifeldein said the review board is "long overdue" and spoke of the trauma people experience seeing images of excessive and unjustified force by law enforcement officials.
"This has been the tragic reality of Black and brown communities for years, and [it] has largely been ignored," he said. "We cannot afford to ignore these challenges any longer because Black, Indigenous, and People of Color do indeed matter."
The ordinance follows adoption of Resolution 2950 in June 2020, which condemned police brutality and systemic racism; reaffirmed that Black Lives Matter; and stated Council's intent to establish a community policing review board.
The seven-member board will be appointed by the city council, with "at least three members who come from historically, racially or socially marginalized communities that have commonly experienced disparate policing," and at least one member from a social justice organization. An additional nonvoting member with law enforcement experience will also be appointed.
The board is authorized to receive, investigate and issue findings on complaints from civilians regarding conduct of law enforcement officers and civilian employees of a law enforcement agency. It can subpoena information from the police and refer complaints to prosecutors but will not have the power to independently impose disciplinary measures. The chief of police retains that authority but must disclose to the public any reasons for not following a board recommendation.
"APD welcomes the civilian oversight of the Community Policing Review Board," said Police Chief Michael Brown. "We were engaged in deliberations for the board's creation and have had civilian oversight for many years. We are a 21st Century Policing agency and believe in being as transparent as possible."
The ordinance also establishes a new City Council appointed position, the Independent Policing Auditor/Investigator, to staff the new review board, which must make its findings available to the general public.
"Alexandrians are blessed to be served by a deeply professional and capable Police Department," said Mayor Justin Wilson following the vote. "Today's adoption of this ordinance is an effort to enhance the trust between our Police Department and our community."
Brown created a Community Advisory Team in 2017 comprised of community members to provide him with insight on departmental activities under the guidelines of President Barack Obama's 2015 21st Century Policing initiative.