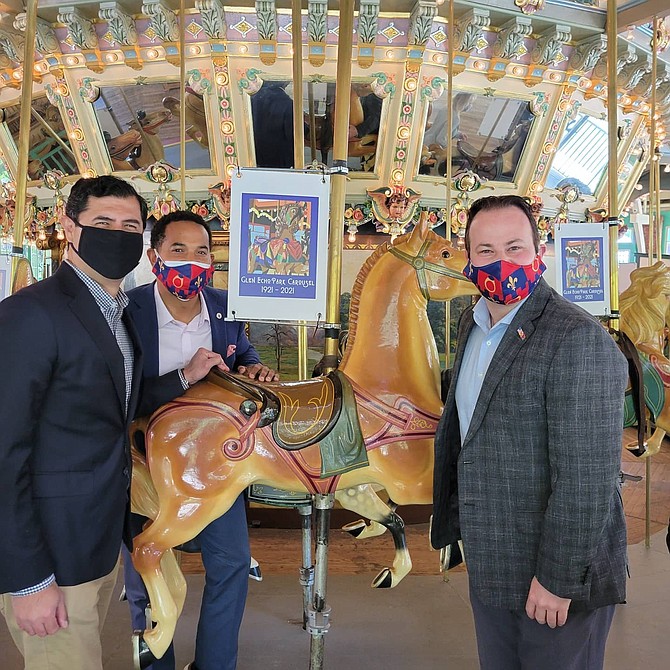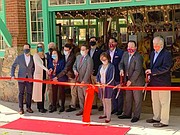 The Almanac's calendar of events portends to bloom with lifting of restrictions as more county residents get vaccinated. On Tuesday, May 4, 2021, the county's Department of Health and Human services reported that 53.9 percent of Montgomery County residents have had at least one vaccination and 38.2 percent of residents have completed their vaccination doses.
The Glen Echo Park Carousel reopened to the public on May 1, 2021 and will be open on Saturdays and Sundays during May from 12 p.m. to 6 p.m. and from 10 a.m. to 6 p.m. on Memorial Day.
See https://glenechopark.org/ for ticket information.
"Due to capacity restrictions, tickets for each time slot are limited. We encourage all visitors to purchase tickets in advance to ensure that you can ride," according to Glen Echo Park's website.
THE ANTIQUE CAROUSEL is one of 135 functioning antique carousels in the country. The Dentzel's Carousel Company installed Glen Echo Park's carousel in 1921; the historic ride features 52 animals, 40 horses, four rabbits, four ostriches, one giraffe, one deer, one lion and one tiger.
The carousel is one of the only remaining historic rides from the amusement park era at Glen Echo Park. It is ridden by more than 50,000 people each year.
In 2021, the carousel celebrates its 100th Anniversary in the Park. Last Saturday, May 1, 2021, members of Montgomery County's Council and Maryland's General Assembly celebrated on the historic ride, now open to the public again.
HOWARD UNIVERSITY students helped end segregation at the park for the 1961 season after leading successful protests in 1960.
In 1970, slated to be sold after the private Glen Echo Amusement Park was closed in 1968, the Glen Echo Park carousel was saved by a group of local citizens, led by Town of Glen Echo resident Nancy Long. Private citizens and foundations donated funds in support of a twenty-year restoration.
Montgomery Parks' new historic site, Josiah Henson Museum and Park, is also open from Friday to Sunday, 10 a.m. to 4 p.m.
"My Name is Josiah Henson," is a 12-minute film that begins a self-guided tour of the newly opened Josiah Henson Museum and Park. Museum exhibits tell the story of Rev. Henson's early life located inside the historic Riley/Bolten House and attached log kitchen.
Josiah Henson Museum and Park, is open Friday to Sunday, 10 a.m. to 4 p.m.
Take the virtual tour: https://t.co/41ib044pot.
Get timed tickets at https://t.co/VOgTf3dKqT.
Parking is only available at the Kennedy-Shriver Aquatic Center, located across the street at Wall Local Park, 5900 Executive Blvd, N. Bethesda. Follow signage for the "Pathway to Freedom" that leads to the Josiah Henson Museum and Park.