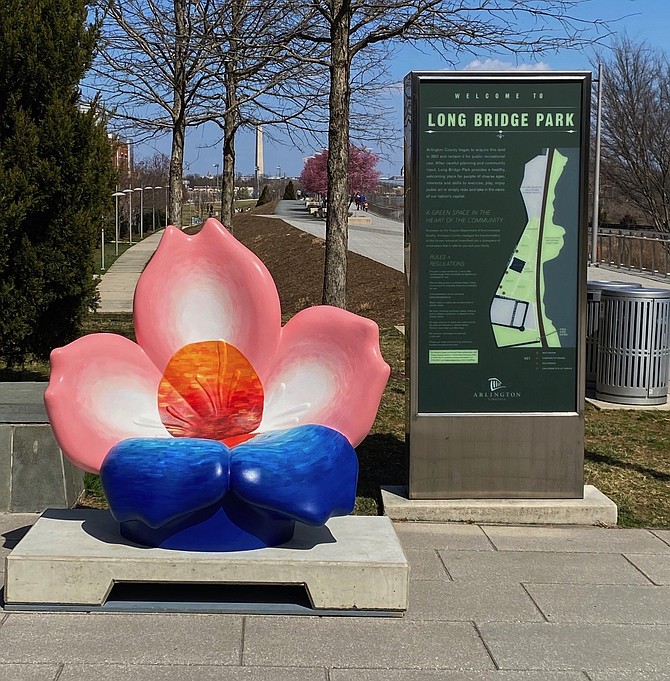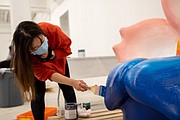 Woojung Lee screamed.
"I called everyone I knew in Korea and in Fairfax," where she lives, when she found out she was chosen among 139 artists to paint a giant cherry blossom sculpture as part of this year's Cherry Blossom Festival. Her sculpture is located at Long Bridge Park at National Landing in Arlington.
She said, "I knew the dimensions but when I actually saw the sculpture it was a challenge. It was bigger than I thought. I'm 5-foot-1-inch, and the sculpture is as high as I am."
Lee found out about the Cherry Blossom Art in Bloom competition on a bulletin board where her professor had posted the opportunity. But she found out about the competition on the last day and had four hours to explain her idea and submit a design. "I thought I'd give it a shot."
Lee's idea to paint a sunrise originated from her experience last year with the pandemic.
"I had to stay home. I was depressed and frustrated." Then one day she noticed some light and "I started to notice more. I realized the sun would rise no matter what happens. So are our hopes." So she decided to paint a sunrise on her cherry blossom sculpture. She says it took her one week to complete the project.
She says the painting was not without its challenges. "We used exterior paint, and I had never experienced it before. It dried so fast that trying to make the graduations of the sunrise with all of the colors was difficult. I was panicking." She said that color-wise she isn't 100 percent satisfied. "I wanted more colors; there aren't a lot to choose from with exterior paint. I had to mix them to get my color choice."
Lee arrived in the U.S. four years ago to explore a new world. "I'd never been to America. I came to learn a new language and culture." Lee was planning to go back in a year.
But the longer she lives here the more she realizes she wants to stay. "The cultures are so different." She explains the instruction methods are one of the things where she finds a big contrast. "In Korea there are so many restrictions that you can't be creative. There is a way they want you to do it." But she says here it is more open and you can create whatever you want.
There are other differences, such as a lot more freedom for women here, she said. In Korea, women who get married are expected to have a baby and devote themselves to their family. She says it is not possible to also have a career. And as an aside she adds they don't snack in Korea. "When I moved to America, I gained 20 pounds."
Lee has finished her graphics design studies at NOVA and plans to go to New York City in July for 2-1/2 years to finish her course of study. Her goal in five years is to have a job as a graphic designer in New York City.
She thought when she came to America that everyone had an opportunity for a good education. But she saw a lot of documentaries, including one about Baltimore, where she discovered that all children, especially in Black communities, don't have access. "I would like to teach art to children who don't have access to a proper education."
Diana Mayhew, President and CEO of the Cherry Blossom Festival, said this was the first year for the Art in Bloom competition at the Cherry Blossom Festival. She has been in charge of the Cherry Blossom festivities for the last 21 years but explained recently the festival has been particularly challenging due to the coronavirus.

"We wanted to make sure we didn't just put together a virtual celebration. The City was glum." She says last year the pandemic hit just nine days before the Cherry Blossom Festival was due to begin. But this year there was time to plan so they came up with three scenarios.
One of the highlights of this year's festival was the sculpture competition announced in January and attracting 139 entries. In the first phase, a panel of judges pared the group back to 75 and finally after some agonizing, they chose the final 26. "There were some amazing submissions. This was our way of taking the festival to the community. There was joy; it was uplifting."
They found the festival spread to neighborhoods with buildings lit up in pink and hundreds of people decorating their houses. They moved the blossom kite festival to "your backyard" with 19 percent of the registrations outside D.C. Nine countries were represented in the kite festival. "People wanted to be represented. The Cherry Blossom Festival spread around the world."
The sculptures are located around the metropolitan area, including each ward in D.C., National Harbor in Maryland and Aurora Heights and National Landing in northern Virginia. One sculpture featured the landmarks of the City, like Ben's Chili Bowl, Howard University and The Chair. This sculpture is located across from the Entertainment and Sports Arena. Another sculpture is a community grid located at Adams Mill and Columbia Roads NW.
Another unusual sculpture features a crane based on the Japanese belief that cranes are mystical, holy creatures. It is located at Nannie Helen Burroughs Ave.
The sculptures will be in their locations until May 31 "although we are hoping to find sponsors to fund them permanently."
Lee's sculpture was chosen by Amazon, who funded this initiative, as the one to be located near their office. Mayhew said, "You have to see it. The sun shines right on it. It is in a perfect location. It is gorgeous."