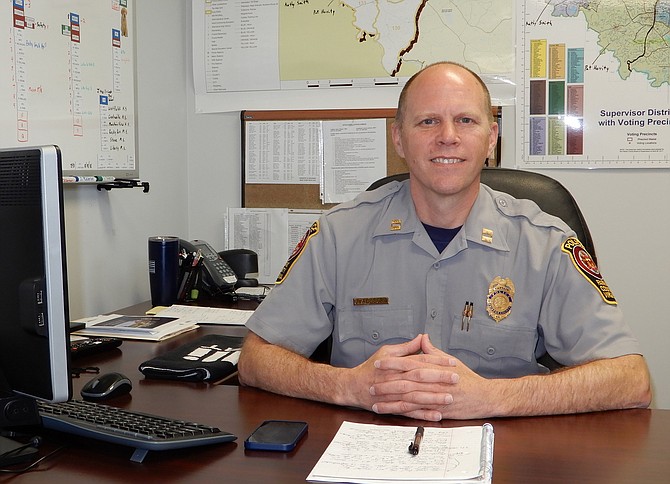 Attending Old Dominion University, Jason Allegra followed in his brother's footsteps by majoring in criminal justice. And those courses led him to a career with the Fairfax County Police Department and his new position as commander of the Sully District Station.
"Once I started the classes, I became interested in it," he said. "While in college, I did ride-alongs with the Chesapeake police, and that's when I decided this is what I wanted to do."
Graduating in 1994, Allegra was hired by Fairfax County in 1995, attended the Criminal Justice Academy and has now been with the FCPD for more than 26 years. He began at the McLean District Station, serving on the Neighborhood Patrol Unit (Bike Team).
"It was a joy," he said. "I absolutely loved fighting crime and arresting bad guys while, at the same time, helping their victims." He was promoted to sergeant in 2003 and became patrol supervisor at the Mason District Station. On the front line of the action, he oversaw a patrol squad on the street, responding to serious, major incidents.
ALLEGRA was transferred to the Department's Internal Affairs Bureau in 2007 and, the following year, was promoted to second lieutenant. "It's not a job you ask to go to, but it plays a significant role in the Department," he explained. "And a lot of times, it ends up that the officer you're investigating did the right thing. So I was glad to do it."
After two-and-a-half years, he went to the Reston District Station as the Criminal Investigations Section (CIS) supervisor. There, he was mainly in charge of burglary, street robbery and larceny investigations.
"It was probably my favorite job because you're going after some serious criminals, while giving satisfaction to people who've had their homes burglarized and things taken – or had their valuables stolen during a robbery," said Allegra. "It's about bringing the criminals to justice and trying to recover those items."
He did that job for five years, from 2009-14. "There were a lot of serial burglaries during that time, mostly involving jewelry," he said. "So we did many operations where we were proactive in catching the burglars in progress. And we incorporated our Neighborhood Patrol Unit in it. I needed the entire station, and CIS, to do my job. And that's my role now, too – making sure the Sully District Station functions well."
Promoted to first lieutenant in 2014, Allegra then became the police liaison commander at the Dispatch Center, acting as the link between dispatch and patrol units. He assisted the duty officer by getting the resources the patrol officers required, such as Major Crimes detectives, a helicopter, crime-scene detectives and/or K-9s to respond to a track.
"It was good to sit with the dispatchers and see what a great job they do looking after our officers," said Allegra. Afterward, he served from 2015-17 as assistant commander of the McLean District Station.
"I learned a lot there," he said. "I learned how to run a station from a command standpoint, plus what front-line officers need to do their jobs and how best to help them. We need to listen to what they tell us about what they see and need, because they're doing the work."
Next, Allegra became commander of the Inspections Division of the Internal Affairs Bureau. "I made sure proper procedures were followed regarding evidence, chain of command, policies, files and records," he said.
After that assignment, he went to the Criminal Intelligence Division as its assistant commander. There, he oversaw both the Criminal Intelligence Unit and the Gang Intelligence Unit. "As you move through the Police Department, you learn something every step of the way and become a more well-rounded commander," said Allegra.
Then in 2019, he was promoted to captain and transferred to the Organized Crime and Narcotics Division. He was the commander of undercover, narcotics, money-laundering and street-crimes investigations and also headed the Opioid Unit.
"That unit had just started, and I reorganized it to bolster the officers' investigations," said Allegra. "I got them the resources they needed to do their investigations – which are so complex and difficult. These included equipment, people and partnerships with federal investigators and other local jurisdictions in the Metropolitan Washington area and Baltimore – because drugs come from all over."
HIS NEXT MOVE was in January, when he became commander of the Sully District Station. "It feels good; I feel fortunate to be here," he said. "There's such a great foundation at Sully that I walked into a wonderful situation. There are great supervisors here and many senior master police officers that help steer this station."
"They really provide great support and guidance to the younger officers and are important to the success of this station," continued Allegra. "We're also extremely lucky here to have the community's support and trust. And I plan to build off of it and continue that relationship between the community, its businesses and the police."
The station has 109 sworn officers, eight auxiliary officers, plus civilian staff to cover 70 square miles. Generally, larcenies from vehicles are the most prevalent crimes here. The officers also focus on DWIs and preventing crashes, especially along the Routes 28/29 Corridor. "Due to COVID-19, we had lots of virtual meetings," said Allegra. "But more than 70 percent of the Police Department is vaccinated now, so we're moving along."
He said the toughest part of his job during this pandemic is not being able to get out and meet residents in small groups in a relaxed forum. "When things go well, it's because of the troops," said Allegra. "When they're bad, it's on me. So I do everything I can to listen to the officers, guide them and give them all the tools they need to be successful. The same goes for the community members – they want to be heard."
"If you learn from your mistakes, incorporate good values and do the right things for the right reasons, you're going to be fine," he added. "A lot of people care more about how they were treated by a police officer than about how they were adjudicated in court."
So what gives Allegra the most satisfaction in his new position? "I love the station environment and interacting with the officers, on both a personal and a professional level," he said. "I enjoy watching them grow and achieve their goals – whether it's getting to a specialty unit or getting promoted. It's a commander's job to help them."