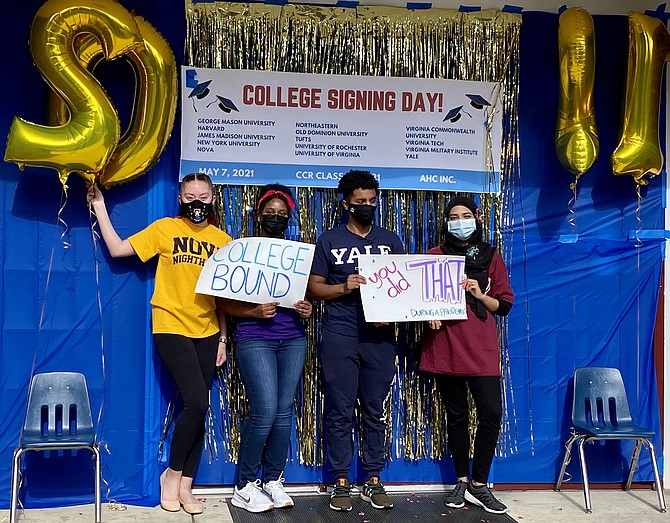 Thirty-one high school students sporting the T-shirt of their chosen college were cheered on, cowbells ringing, by family and friends on Friday, May 14 in a drive through signing ceremony by the Rinker Community Center. The students are seniors from AHC's College and Readiness Program.
Twenty-eight of the 31 students are first generation college students, and the entire graduating class is college-bound. Many of them have received scholarships, including Michelle Rojas, a POSSE scholar who will be attending the University of Rochester; Abel Geleta, a Ron Brown scholar who will be attending Yale; Bill Soronzonbold, a Questbridge Scholar who will be going to Tufts; and Mahia Rahmen, a Jack Kent Cooke scholar who will be attending Harvard. The class of 2021 has secured over $3 million in scholarships and aid.
Rahmen plans to study Computer Science and Social Justice at Harvard. She says her aim is to use science and data to figure out what inequities face neighborhoods and work on policies to make change.
Geleta is planning to study science and pre-law at Yale, to possibly become a civil rights lawyer. "Seeing so much unfold during the pandemic, I'd like to be a change agent. We're the next generation; we need to be community-minded."
Elena Ogbe, attending James Madison University, and also a scholarship recipient, has been in the AHC programs since 7th grade. She comes from a big Eritrean family and two of her siblings have also been part of the programs from an early age.
Colleges attending: Harvard University, Yale University, Tufts University, University of Virginia, New York University, University of Rochester, George Mason University, James Madison University, Northeastern University, NOVA Community College, Old Dominion University, Virginia Commonwealth University, Virginia Tech and Virginia Military Institute.
This program provides low-income students in AHC's affordable housing communities with the tools and support to successfully graduate from high school. Juniors and seniors work one-on-one with a mentor who helps them navigate the educational system and future career choices. The comprehensive program begins with after-school assistance for elementary students and tutoring for teens.
The College and Readiness program was set up five years ago and has mentored 127 students with the first cohort in this program graduating this spring.
AHC Inc. is an affordable housing nonprofit with 7,800 affordable affordable apartments in Virginia and Maryland.