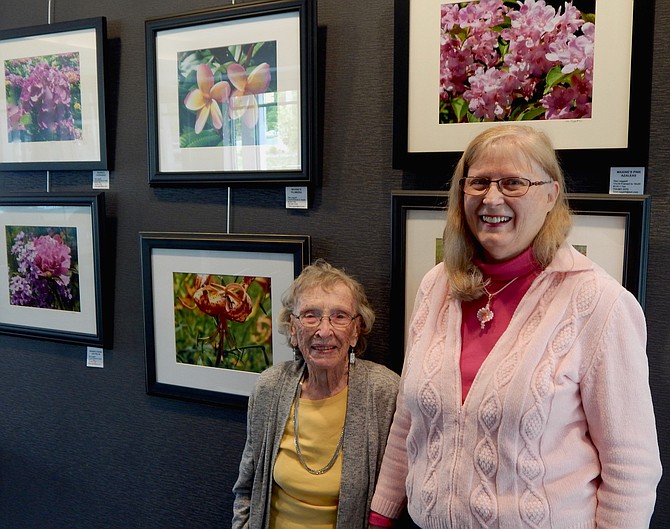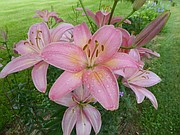 "Maxine's Garden" is a photography exhibit honoring Maxine Turner, 98-year-old gardener in Great Falls, portraying a wide variety of beautiful flowers in her garden. She lives on Georgetown Pike east of Utterback Store Road and has magnificent flower gardens that stretch the full width of her lot, parallel to the Pike. Anyone who drives that portion of the road has probably enjoyed seeing the flowers and maybe has seen Maxine at work. About ten years ago, Dee Leggett stopped by when Maxine was out working in her garden and asked if she could photograph Maxine's flowers. A fast friendship developed and Dee has been photographing her flowers ever since.
Maxine came to the Washington area from Missouri at the beginning of World War II when she was recruited out of college to work for the Federal government. She was a senior stenographer. She met her husband, Gibson, a Virginia native, on a blind date. He was in the Army and served in many locations throughout Europe and North Africa. A few years after he returned from the war, they bought the property on Georgetown Pike. Maxine began her Great Falls gardening career, while raising children and working for the Fairfax County School System.

The display of flower photographs on exhibit shows the diversity of the shapes of flower petals and the variety of colors.

Flowers and her gardening keep Maxine going strong. At 98 she admits to having limitations with all the work the garden requires (she grows vegetables also), and greatly appreciates the help her son Paul provides.
Leggett has been photographing nature for over ten years, both in the Great Falls area and around the world. She is a member of Great Falls Studios.

To see more of her work, contact Leggett at 703-861-3335 or DeeLeggett@aol.com
Visit her website at https://www.etsy.com/Shop/CreationPraises
TD Bank is open every day, located at the corner of Walker Road and Georgetown Pike in Great Falls.